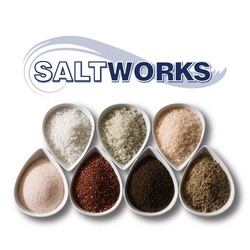 literally hundreds of our clients have asked us to get our gourmet sea salts kosher certified.
Woodinville, WA (PRWEB) November 15, 2007
What do SaltWorks' sea salts have in common with Oreos? They've been granted the enviable Certified Kosher designation by the highly respected global entity Orthodox Union. This is a great victory for kosher-eating gourmets, as "kosher" and "sea salt" rarely exist on the same label.
After inspecting SaltWorks, Inc.'s warehouse and factory, representatives of the Orthodox Union (OU) have granted the designation to each of the unique sea salts manufactured and sold by SaltWorks-with the exception of any smoked sea salt (http://www.seasalt.com).
The New York Times acknowledges the OU "coveted seal of approval" as one of the world's most recognized trademarks. Forbes magazine writes, "If you want to know your food is kosher, look for the OU symbol."
When asked why the company decided to go kosher, Mark Zoske, founder and President of SaltWorks, acknowledged market pressure, saying "literally hundreds of our clients have asked us to get our gourmet sea salts kosher certified." This latest certification is another feather under the cap of a company that prides itself on using traditional harvesting methods, including sustainability.
Going kosher gives a company a clear competitive edge. Americans are eating kosher foods every day, whether they know it or not. Large companies like Heinz, Coca-Cola, Hershey's, and Kraft/Nabisco are certified by OU. According to http://www.oukosher.org, the OU logo "has become an increasingly important marketing device which generates additional revenue ... Supermarkets favor brands with the OU certification because it gives the product a competitive edge that makes it sell faster." Supermarkets go on to report that kosher products can expect better shelf space, and will outsell non-kosher competition by 20%.
America is experiencing a gourmet revolution, visible in everything from wine sales to the increase of organic and sustainable products, and the interest in artisan sea salts from around the world. Just last month Oprah put SaltWorks' Ultimate Salt Sampler by the Artisan Salt Company on her holiday gift guide for 2007. At last, kosher foodies have an abundance of all-natural sea salts to choose from due to SaltWorks' efforts to go kosher.
About SaltWorks, Inc.
SaltWorks is a specialty salt company that stocks over two million pounds of sea salt in 50 different varieties. SaltWorks prides itself on its approach to the sea salt business, focusing on traditional harvesting methods, sustainability, natural processes and quality. To learn more, visit http://www.seasalt.com.
For more information about this topic please call Naomi Novotny at 800.353.7258.
# # #