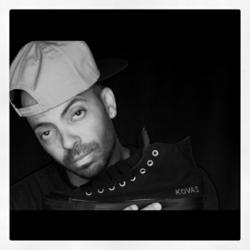 "Anything I do, I want to take it to another level. That's how you really leave an impression." -KOVAS
New York, NY (PRWEB) September 06, 2012
Rapper-producer KOVAS (pro-nounced Ka-vas) and Art School Rebellion are pleased to announce the KOVAS X Converse collaborative sneaker. The sleek, all black sneakers feature gold eyelets, KOVAS fashion buttons and extra wide laces. The limited edition sneaker marks the release of KOVAS' debut album Student to The Game.
KOVAS caught the eye of the Converse marketing team when songs from his last mixtape "The Stimulus Package" were featured on Kanye West's blog. "They liked my vibe and knew they wanted to do something special," says KOVAS. "We sat down and this is the result of that partnership." "Anything I do, I want to take it to another level. That's how you really leave an impression."
Student to The Game, which features songs like "Deed It Main" (which appeared in the Warner Bros movie "Project X" and "Ready" which also appears in the recent Fox pictures "Ruby Sparks," will be released September 25, 2012. In addition, Student of the Game features appearances from Donnis, Andy Milonakis, Smooth B (from Nice and Smooth , and Yonas from U-N-I, Amber Ojeda. You can stream a sample of the
album on SoundCloud via this link http://soundcloud.com/kovas/kovas-student-to-the-game explicit) and you can preview the clean version of KOVAS Hollywood attached to release.
While most people might be unfamiliar with KOVAS, more than likely, he's made music you've heard. A Brooklyn native, Kovas has worked with artists from M.I.A. and Lady Sovereign to Justin Timberlake and Shakira. More, his music has provided sonic background for films like Prom Night, TV shows like American Dad, and video games like the Madden NFL series, to name just a few.
Following in the tradition of producers who also are artists like Kanye West, Pharrell and Timbaland, Kovas is multitalented. In fact, he plays five instruments, sings, raps and engineers on most of his productions. As founder of the digital music label Art School Rebellion / Ghetto Beat, the versatile musician has amassed a catalog of production credits from chart topping recording artists and leading entertainment companies. In 2003 he produced the track "Attitude" for Nick Cannon's self-titled album. In 2006, he remixed both "Fiddle with the Beat" for Lady Sovereign and "Hips Don't Lie" for Shakira. He was commissioned for MTV's Making The Band, EA Sports Madden NFL 09 video game and Cartoon Networks' "Adult Swim." His hit single, "Wax On Wax Off," was featured on the Madden 09 Video Game & Soundtrack. And as if music isn't enough, Kovas also voiced two characters in the Rockstar video game "Grand Theft Auto IV."
Kovas made his debut in 2000 at the age of 16 as both a producer and artist on the Tommy Boy Records release, De La Soul featuring Kovas "Words and Verbs." He began to compose music, pulling from his Latin/ French Moroccan heritage, as well as rock, punk, soul and hip-hop influences. In 2007, Kovas released his first solo EP, The Arrogance of Youth. In 2009, he released a follow up EP Reagan Babies.
Kovas might be the best-kept secret in hip-hop, but not for much longer. Student of the Game drops September 25 2012.
The first music video from the project "Ice Cream aka Baskin Robbins" will be released later this month.
For press inquiries, please contact Nicole Balin at 323-651-1580 or nik(at)ballinp(dot)com.
For more info on Kovas: