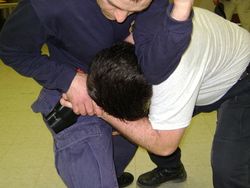 KMNY Force Training Instructors were called in to zero in on training specifics and provide Krav Maga Defensive / Tactical solutions appropriate for response team training
Westchester County, NY (PRWEB) September 25, 2009
Krav Maga New York (KMNY) has recently conducted a series of tailored training sessions for one of NY's elite special response teams. Having identified a tactical need, the team requested sessions to address this need. A source close to the events explained, "KMNY Force Training Instructors were called in to zero in on training specifics and provide Krav Maga Defensive / Tactical solutions appropriate for response team training".
Krav Maga, renowned worldwide for its effectiveness against real life violent encounters, was originally created for the Israeli Defense Force (IDF). It emerged in an environment where extreme violence was common. Over time, the system has been repeatedly tested and improved under real-life conditions. No defensive tactics system is more street and battle tested than Krav Maga.
Krav Maga has received international recognition as a highly practical defensive tactics system well suited for law enforcement. Based on instinctive movements, the simple, effective, and aggressive techniques require minimal training time and yield maximum retention, even under stress. The training is designed to improve the officers' emotional and physical response to danger. The system deals with scenarios where operators face life-threatening situations while unarmed or in situations where higher force options can't be accessed. From this perspective, the operator must respond with fast, aggressive, defensive techniques and combative strikes until the situation is safely resolved. These methods also develop the ability to recognize danger at the earliest stages, react without hesitation, and escalate and de-escalate with the appropriate level of force.
Krav Maga New York and the NY response team have plans in place for ongoing Krav Maga training to be held throughout 2009.
KMNY's a proud supporter of the law enforcement men and women society trains, equips and authorizes to defend our way of life. KMNY will host a Krav Maga Law Enforcement Certification Course October 26 - 30. At the completion of the course, participants may be certified to teach Krav Maga to their respective law enforcement agencies.
For more information on KMNY in Upper Westchester County, or to register for the October 2009 Krav Maga Certification Course, please visit http://www.kmny.us.
KMNY is licensee of Krav Maga Worldwide and has been operating in upper Westchester County since 2004.
###