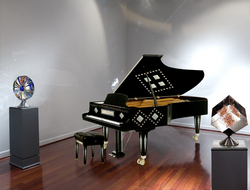 because Bösendorfer and Kuhn strive for the same level of perfection. This special Kuhn-Bösendorfer has exceeded everyone's expectations, including my own.
Winston Salem, NC (PRWEB) September 23, 2008
Winston-Salem, N.C. (PRWEB) September 23, 2008 -- Kuhn Studio announced today pending availability of a $1.2 million grand piano, likely the most expensive new piano available today. The stunning 7'4" black Kuhn-Bösendorfer piano (along with its matching bench) is inset with as many as 100-thousand hand cut, polished jewels arranged in tasteful diamond patterns. The instrument has been eighteen months in the making and is a "grand collaboration" between L. Bösendorfer Klavierfabrik GmbH of Vienna, Austria and Jon Kuhn, the world's foremost cold glass sculptor.
Richard Ruggero, president of Ruggero Piano, the authorized Bösendorfer dealer for North Carolina, brought the potential collaboration to the attention of Bösendorfer and played a key role in developing the relationship between the piano maker and the glass artist. "Working with Jon Kuhn has been exciting," Ruggero said, "because Bösendorfer and Kuhn strive for the same level of perfection. This special Kuhn-Bösendorfer has exceeded everyone's expectations, including my own."
Eric Johnson, Bösendorfer's U.S. Operations Manager and Eastern Regional Sales Manager, noted that "Bösendorfer has worked with top artists and designers since the nineteenth century to create uniquely designed, hand-built instruments of unusual visual as well as musical quality. In that light, we're very excited about our collaboration with Jon Kuhn," he said.
Kuhn's cold glass sculptures are known for their unusual radiance, in which light refracts from intricately crafted core glass of different colors through painstakingly built-up layers of the clearest lead crystal. His cubes, circles and works of varied sizes and geometries are included in the permanent collections of over 35 museums. These include the New York Metropolitan Museum of Art, The Carnegie Museum, National Museum of American Art and The White House Permanent Collection.
Bösendorfer pianos have been valued since 1828 for their exquisite voice and unparalleled playing sensitivity. They are designed and crafted in a way that separates them from every other piano on Earth. The design objective of most fine pianos is to keep sound within the instrument by using dense laminated hardwoods for the rim, thus producing a palette of complex harmonics. In contrast, Bösendorfer's choice of sound spruce for the rim allows the entire case to vibrate as one with the soundboard (like a rare Stradivarius), which the company calls the "resonating box principle." The result is an unusually pure tone with great clarity and depth.
"These instruments truly are one-of-a-kind works of visual and musical art," Kuhn commented for the announcement. "Because of their rarity and craftsmanship -- and the fact that Bösendorfer pianos are still beautiful and playable when they're 150 years old, each Kuhn-Bösendorfer is well worth the investment of 1.2 million dollars. Ignaz Bösendorfer started his company with the idea of building true heirloom pianos, and my staff and I are privileged to help extend that long tradition."
Each instrument will have the purchaser's name written in gold leaf embedded deep within a remarkable crystal fallboard logo. This unusual design feature assures that the initial owner's name (whether art collector or professional pianist) will endure -- along with the piano.
Inaugural presentation of the first Kuhn-Bösendorfer will be in Kuhn Studio's Winston-Salem, N.C. gallery shortly after it is shipped from Vienna, which is scheduled for October.
For more information about the Kuhn-Bösendorfer, please contact the companies directly.
About Jon Kuhn:
Jon Kuhn began his artistic life thirty plus years ago with organic blown glass forms. He then progressed rapidly to more structured glass sculptures that became increasingly complex over time. Each work is one of a kind, whether a spinning cube that casts shimmering rainbows throughout the surrounding space or a crystal table that seems to glow with a soft inner light. Kuhn's glass sculptures are available through art galleries that regularly represent Kuhn's work. They are priced from the low thousands to more than one million dollars.
Contact:
Jon Kuhn, artist
Kuhn Studio
336-722-2369
jonkuhn at kuhnstudio dot com
About Bösendorfer:
L. Bösendorfer Klavierfabrik GmbH began business in Vienna 180 years ago and has been building pianos slowly -- by hand -- ever since. Each instrument is made from the finest materials and requires over a year to create. Only about 400 Bösendorfers are made annually. They are prized by piano performing artists for their extraordinary sound, by discriminating owners for their exquisite craftsmanship, and by collectors and arts patrons for their enduring value. Bösendorfers are available through a limited number of carefully considered piano retailers.
Contact:
Eric Johnson, U.S. Operations Manager
Bösendorfer USA
203-520-9064
eric at perarts dot com
About Ruggero Piano:
Ruggero Piano is a third-generation family business in Raleigh, N.C. that represents Bösendorfer, Fazioli, Schimmel, Mason & Hamlin, Estonia, Vogel and Charles R. Walter pianos, among others. Ruggero Piano is known for its technical capability and extraordinary customer service. The firm also specializes in piano rebuilding and repair, including those made by Steinway & Sons.
Contact:
Richard Ruggero, President
Ruggero Piano
919-839-2040
ruggeropiano at earthlink dot com
# # #