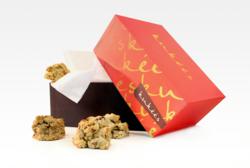 Kukéés offers four scrumptious holiday flavors, available to order at www.kukees.com
Los Angeles, Calif. (PRWEB) November 27, 2012
With the holidays rapidly approaching, nothing says "Seasons Greetings!" more than a box of tasty cookies. Encased in specially designed holiday packaging, Kukéés make the perfect holiday gift for the cookie monsters in your life— family, friends, co-workers, hosts, gourmands or those who are just plain hard to shop for.
In addition to six original flavors, Kukéés now offers four scrumptious holiday flavors through Dec. 31, available to order at http://www.kukees.com.
Handmade with high quality, gourmet ingredients, including three grams of fiber, Kukéés do not contain preservatives or hydrogenated oils. Retailing for $49, each three-pound box contains one dozen fully baked Kukéés (Biti Bites boxes contain 36 mini-cookies) to share or give.
Available through Dec. 31, limited holiday flavors include: Turtle Kukéé (a special take on the favorite turtle with creamy caramel, chunks of milk chocolate and pecans), Gingerbread Chocolate (decadent pieces of dark chocolate mixed into traditional gingerbread), Pumpkin White Chocolate cookies (as delicious as it sounds— festive spiced pumpkin infused with pieces of smooth white chocolate) and Cranberry Orange Zest with White Chips (a holiday party-in-your mouth with bits of cranberry and orange zest, oozing with white chocolate).
For media inquiries or to request samples of Kukéés, please contact: Amanda Goodhue at amanda.goodhue (at)excelamktg(dot)com.
ABOUT KUKÉÉS
A one-of-a-kind decadent treat, Kukéés (pronounced "cookies") are lovingly handmade with the most wonderful, purest ingredients shaved, chunked and dipped inside, then fresh baked into a sinfully delicious delight. You won't find any preservatives or hydrogenated oils, just loads of heavenly flavor. For more information or to order, please visit http://www.kukees.com
###