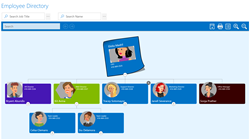 TORONTO (PRWEB) October 26, 2018
KWizCom, a leading developer of SharePoint Forms & Workflows, as well as multiple other powerful SharePoint web parts, add-ons, and apps for Office 365 (SharePoint Online), announced their plans to air a new webinar entitled "Get the Most Out of Your SharePoint Online Org. Chart". The webinar will be conducted by Nimrod Geva, the Product Group Manager at KWizCom Corporation.
SharePoint users are encouraged to register for this upcoming interactive webinar to see how they can enhance their SharePoint Online organization chart so that it is interactive, user-friendly & highly-customizable. In this session, Nimrod Geva will demonstrate the features and configuration options of KWizCom's new Org. Chart App for Office 365. Below are some of the features of the app that will be displayed:

Connecting your org. chart to any source, such as SharePoint lists, Azure AD, Excel files and SharePoint aggregation results
Finding the right people much faster with the use of configurable filters
Loading 1000s of contacts in seconds with the advanced caching mechanism
Adding your custom actions - this allows easily adding custom menus which enables end users to better collaborate with peers
The webinar will air live on Wednesday, November 28th at 2pm EST. The webinar recording will be available on demand within 1-2 business days.
Nimrod Geva has over 25 years of experience in software design and development. As KWizCom's Product Group Manager, Mr. Geva manages the roadmap of KWizCom products which includes finding ways to improve SharePoint and designing SharePoint add-ons and their features set. He constantly communicates with customers about their business challenges and feature requests. Nimrod's passion is to design KWizCom products that allow customers to easily overcome their business challenges.
To register for the above-mentioned webinar, please visit http://www.kwizcom.com/company/webinars/.
For more information on KWizCom Corporation and the company's 60+ SharePoint add-ons and apps for Office 365, visit the company's website indicated below.
Follow KWizCom on Twitter @KWizCom
Become a fan of KWizCom on Facebook: https://www.facebook.com/KWizCom
Join KWizCom on LinkedIn http://www.linkedin.com/company/kwizcom
Contact a KWizCom Account Specialist at +1-905-370-0333/+1-855-KWIZCOM or info@kwizcom.com
About KWizCom Corporation
Since 2005, KWizCom has provided innovative solutions and services to make SharePoint even better for over 7,000 companies worldwide. KWizCom's solutions and services expand Microsoft SharePoint out-of-the-box capabilities, streamline workflow, maximize efficiency and enhance overall productivity for hundreds of thousands of users. KWizCom, a Gold Certified Microsoft Partner, is headquartered in Toronto, Canada. Please visit http://www.kwizcom.com to find out more about KWizCom's clients, people, partners, and solutions.