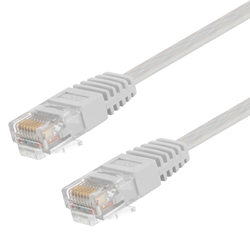 "The black cables are ideal for A/V and networking runs, and our flat white cables are perfect for use in medical applications as they blend in with medical decor and easily show contaminants, making it easy to see when a cable should be wiped down and cleaned," said Dustin Guttadauro, Product Mgr
NORTH ANDOVER, Mass. (PRWEB) February 12, 2019
L-com, a preferred manufacturer of wired and wireless connectivity products, announced today that it has launched a new series of flat Category 5e and Category 6 Ethernet cables that are available off-the-shelf in black and white colors.
These new flat cable assemblies allow network runs in tight spaces where traditional round cables will not work such as under carpets, doorways and around corners. These cables also fit flush against any flat surface such as a floor or wall.
These new cables feature over-molded RJ45 connectors, category rated twisted pair cable and off-the-shelf lengths ranging from 1 to 100 feet.
"Our new flat Ethernet cables solve installation issues where a cable needs to be routed in a tight space. The black cables are ideal for A/V and networking runs, and our flat white cables are perfect for use in medical applications as they blend in with medical decor and easily show contaminants, making it easy to see when a cable should be wiped down and cleaned," said Dustin Guttadauro, Product Manager.
L-com's new flat Ethernet cables are in stock and available for immediate shipment.
For more information about this release, please contact:
Peter McNeil
L-com
17792 Fitch
Irvine, CA
978-682-6936
About L-com:
L-com, a leading manufacturer of wired and wireless connectivity products, offers a wide range of solutions and unrivaled customer service for the electronics and data communications industries. The company's product portfolio includes cable assemblies, connectors, adapters, antennas, enclosures, surge protectors and more. L-com is headquartered in North Andover, Mass., is ISO 9001: 2008 certified and many of its products are UL® recognized. L-com is an Infinite Electronics brand.
About Infinite Electronics:
Infinite Electronics is a leading global supplier of electronic components serving the urgent needs of engineers through a family of highly recognized and trusted brands. Our portfolio brands are specialists within their respective product set, offering broad inventories of engineering-grade product, paired with expert technical support and same day shipping. Over 100,000 customers across a diverse set of markets rely upon Infinite Electronics to stock and reliably ship urgently needed products every day.