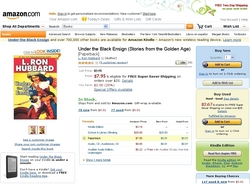 Stories from the Golden Age can be purchased either as a hard copy trade paperback, an eBook or as an unabridged multi-cast audiobook from Amazon
Los Angeles, CA (PRWEB) November 11, 2010
"For the month of November," it was announced by Galaxy Press president John Goodwin, "the L. Ron Hubbard Golden Age Stories titles will be featured selections with Amazon.com so as to make them more accessible to those looking for exciting, adventurous and high interest stories, age appropriate from young adults to great-great grandparents."
Stories from the Golden Age can be purchased either as a hard copy trade paperback, an eBook or as an unabridged multi-cast audiobook from Amazon (as well as all other sites where books and audiobooks are sold.) Galaxy Press has made it a point to offer all of their titles in each of the popular eBook formats as well. eBook sales are easily the fastest growing segment in the publishing industry today. In 2009, they were $169.5 million, less than half a percent of the total $35 billion publishing industry total. But, in a report by Forrester Research, it was predicted that eBook sales will total $966 million, a 176% sales increase. And next year will cross the $1 billion mark.
"We wanted to provide a reading and listening experience in each of the genres Hubbard wrote in," continued Goodwin. "So, for the month of November, we arranged a sampling in each: mystery/thriller, Science Fiction, Fantasy and Western along with a special discount in appreciation for their giving them a try."
Mystery/thriller: http://www.amazon.com/Under-Black-Ensign-Stories-Golden/dp/1592123392/ref=sr_1_1?ie=UTF8&s=books&qid=1287610547&sr=1-1
Fantasy: http://www.amazon.com/Were-You-Stories-Golden-Age/dp/1592123597/ref=sr_1_3?s=books&ie=UTF8&qid=1287612183&sr=1-3
Science fiction: http://www.amazon.com/Great-Secret-Stories-Golden-Age/dp/1592122493/ref=tmm_abk_title_0?ie=UTF8&qid=1287612127&sr=1-4
Western: http://www.amazon.com/Branded-Outlaw-Stories-Golden-Age/dp/159212349X/ref=tmm_abk_title_0?ie=UTF8&qid=1287610739&sr=1-1
Stories from the Golden Age is a line of 80 books and audiobooks containing 153 stories— adventures, westerns, mysteries, suspense thrillers, science fiction and fantasy —by NYT bestselling author L. Ron Hubbard. This is the culmination of an ambitious undertaking, several years in the making, and will provide today's audience with exciting, heart-pumping, white-knuckle entertainment.
For more information on the Stories from the Golden Age, go to http://www.goldenagestories.com.
# # #