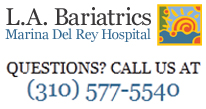 For example, diabetes, hypertension, sleep apnea and joint pain all tend to improve with weight loss
Los Angeles, CA (PRWEB) September 10, 2012
The theme: Western. The fare: heart-healthy. The occasion: victory over obesity.
The 24 patients who attended the annual Bariatric Family Reunion Aug. 18 at L.A. Bariatrics, the weight-loss surgery unit at Marina Del Rey Hospital, had lost a total of 2,052 pounds since having their surgical procedures. That's just over 85 pounds per patient on average.
That weight loss has come with better mobility, reduced symptoms of diabetes and other disorders, easier breathing, more activity, and greatly improved lives.
"The patients who came had their operations as far back as nine years ago — lap band, gastric bypass, some newer options like the gastric sleeve," said Dr. Jeremy Korman, Medical Director of LA Bariatrics, the weight loss program at Marina Del Rey Hospital. "To see that they're still making progress and staying healthy is the greatest reward I could have from this job."
Over 60 people attended the event, including the patients, their loved ones, and staff members. This was the seventh reunion; the reunions have taken place nearly each year since 2005.
The patients' improved health is evident not only in reduced waistlines but also in resolution of health conditions as well.
"For example, diabetes, hypertension, sleep apnea and joint pain all tend to improve with weight loss," said Dr. Mona Misra, Dr. Korman's surgical partner. "It becomes easier to eat sensibly after undergoing one of the procedures our facility offers. After losing the weight, many of our patients are off their previous medications entirely."
A patient must generally have a body-mass index, or BMI, of 35 or higher before being considered for surgery. For someone five feet, four inches tall, a BMI of 35 comes at a body weight of around 200 pounds —55 pounds above the upper limit of the "normal" range: a BMI of 25.
For most patients, even if some excess weight remains, health and quality of life dramatically improve.
"I joined the group in May, so I'm meeting some of these patients for the first time," said Dr. Misra. "However, the excellent results are consistent with what I've seen with my own weight loss surgery patients over the past 7 years of practice."
###
About Marina Del Rey Hospital
Marina Del Rey Hospital in Los Angeles is a boutique surgical hospital focusing on bariatric, spine, orthopedic, and minimally invasive surgery. The multidisciplinary medical team at L.A. Bariatrics, the bariatric surgery program at Marina Del Rey Hospital, offers patients excellent care. As a Bariatric Surgery Center of Excellence, this Los Angeles weight loss center meets high standards for experience in bariatric procedures and inpatient care.
About L.A. Bariatrics
L.A. Bariatrics, located at Marina Del Rey Hospital, is certified by the American Society of Metabolic and Bariatric Surgery as a Bariatric Surgery Center of Excellence, confirming that its staff has extensive, specialized experience and that the facility has passed rigorous inspections. The L.A. Bariatrics team combines exceptional surgical outcomes with nutritional, psychosocial and exercise support for all patients within the program.