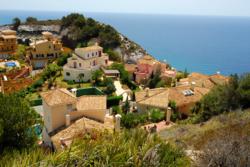 (Vocus/PRWEB) 11 April 2011
Easter is celebrated in Spain from the 15th to the 24th of April, and towns such as Cartagena will come to life with Holy Week processions featuring stunning, elaborately embroidered costumes. Select Resorts is offering special Easter rates at La Manga Club to make it easier for visitors to enjoy this cultural event.
As most of the population of Spain are religious, Easter festivities are very important in Spanish culture and the parades and processions that take place in April will be the result of months of preparation. During the Holy Week, there are lengthy processions taking place every day within 30 minutes from the resort, so there are many opportunities for guests of La Manga Club to watch the Easter festivities.
From the 6th of April to the 2nd of May, guests can enjoy up to 30% discounts at a variety of La Manga Club villas and apartments due to late booking agreements with owners.
April is one of the best months to visit Spain, as the Easter traditions in this country are a time of great merry-making and celebration. Easter marks the resurrection of Jesus following the crucifixion, and it represents faith in religion to the many Catholics in Spain. The Easter Week is known as Semana Santa and is the most important festival in Spain. Rather than the Easter Bunny and chocolate eggs, Spain celebrates the true religious origins of Easter. It is taken very seriously, and each town and city will have spent months preparing for the impressive parades and spectacles.
Spanish Easter celebrations can be traced back hundreds of years, and vary throughout the different regions of Spain. There are four different principal fraternities and more sub-groups, some of which date back to the 16th century. These old traditions are recreated every year with passion and dedication.
On Palm Sunday, parades are held where congregations carry huge palm or olive branches above their heads that have been blessed by the church. Every day throughout the week, speeches, floral offerings, ritual performances, and parades are held, complete with full costumes and impressive displays.
Easter in Spain is like nowhere else, and this special cultural event will surely leave a lasting impression in the memories of all who travel here. With discounted prices and cultural tours, Select Resorts is making it easier for tourists to visit the Murcia region of Spain during Holy Week and learn more about this important religious event.
Author Bio
To learn more about the La Manga Club resort and to plan an Easter holiday to beautiful Spain, check out the Select Resorts website.
# # #