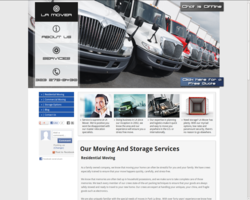 LA Movers, Los Angeles' premier full-service moving company, has expanded its services to include LA Long Distance Moving to anywhere in the United States.
Los Angeles, CA (PRWEB) September 25, 2012
In an ongoing effort to provide the most comprehensive and professional moving experience, LA Movers, Los Angeles' premier full-service moving company, has expanded its services to include LA long distance moving to anywhere in the United States. LA Movers is aggressively working to maintain its position as Los Angeles' foremost moving specialists. Their national service provides the customer with what they want, and will only serve to further the company's recent exponential growth. With coverage now extending across the nation, they're prepared to handle every move to, or from, the Los Angeles area.
As a fully comprehensive, full-service company, LA Movers handles residential, commercial, local, and now national relocations. Striving to be the best L.A. long distance movers, they work with a fleet of top-of-the-line trucks equipped with GPS, and a team of industry professionals. Each LA Movers relocation specialist has extensive training in how to safely and securely wrap, pack, and move any item. Automobiles, boats, pianos, artwork, they can and will move it all successfully. Their moving consultants guide the client through their LA move step-by-step, ensuring an effortless process. Additionally, if storage is required they offer space in a state-of-the-art, climate-controlled, secure storage facility. 24 hour surveillance, as well as, a temperature control system that prevents mold, rust, and wear to belongings, provides the peace of mind that all stored possessions are safe and sound.
LA Movers continues to grow and evolve as they set industry standards for professionalism and reliability. An expanded website, blossoming staff, and the recent addition of long distance moving, highlight the company's current growth. With every relocation LA Movers further refines their expertise and develops lasting relationships with the people they move. Their goal is simple, to provide an easy and enjoyable transition into, or out of, Los Angeles. When LA moves, they move with LA Movers. Go online to LA-Mover.com, or give LA Movers a call for a free no-obligation quote. (323) 275-9430.