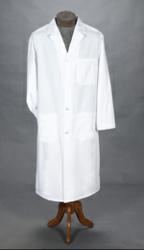 Norfolk, VA (PRWEB) March 16, 2013
Physicians for Peace recently received a donation of embroidered lab coats from Crooked Brook. Although all lab coats bearing the Crooked Brook label are made to order; to accommodate the needs of customers who wanted lab coats that were not as expensive as theirs that are custom made, they offered other brands.
Crooked Brook has since discontinued offering other lab coat brands; however they still have other lab coat brands in their inventory and these are donated to various causes.
The donated lab coats are described as follows:
White, 5.5 oz., 65/35 Poly/Cotton Ring Spun Poplin
Full Length Sleeves
3 outside patch pockets, 1 chest, 2 lower
2 side slit access pockets
4 faux pearl buttons
Bar tacking at all stress points
All had the Physicians for Peace logo embroidered on the left chest.
About Physicians for Peace
Physicians for Peace transforms lives by training, supporting and empowering healthcare professionals working with the world¹s under-served populations. Since 1989, volunteers have conducted medical missions in more than 60 countries.
About Crooked Brook Lab Coats
Crooked Brook lab coats are made to order according to the customer's style, fit, and fabric specifications. By combining the different options; (fabric, buttons, pocket, collar, cuffs, sleeves and piping) customers can design their own lab coat, or they may order a lab coat the way it appears on their website.
Crooked Brook Women's lab coats are available in numerical sizes 2-26. For women whose size is considered petite or plus size (extra large or over size 20), they recommend that customers call them to discuss their body measurements to ensure a proper fit.
In addition Crooked Brook offers women's lab coats in what they call combination sizes. For example, if a woman's body measurements were 39-31-41 according to their size chart she would be their size 14. However, if her measurements were 39-33-43, she could order a 14 top, 16 bottom women's lab coat.
By using combination sizes, maternity lab coats can be made in any of their women's lab coat styles.
Logos are one of the most visual expressions of a company's identity and one reason they are so important for creating a lasting impression of a business, product or service in the minds of everyone exposed to it. Logo embroidered lab coats convey an image of professionalism and have always been a great way to build brand recognition or to promote a product.
Although embroidery or embroidered patches are the most popular method of decoration for lab coats, sometimes neither is suitable for a logo or design because more often than not, the artwork was designed for print. With print, letters can be much smaller and colors can be incorporated more fluidly than with embroidery. Therefore, in some cases, printed logos are a better option and a lower cost alternative to embroidery.
About Crooked Brook
Crooked Brook is a unit of the atelier division of an art studio that offers full service apparel design, pattern making, sample making, private-label small lot production, direct-to garment printing and embroidery. Since 1989, they've built a strong reputation of providing top-notch apparel designs, patterns, fit and production samples for many brand name catalogs and retailers, as well as wardrobe and costumes for movies, television and theater.
All Crooked Brook branded garments and accessories are proudly made to order in the U.S.A.
In addition, Crooked Brook offers:
Custom and made to order men's and women's chef coats, casino, spa, resort, hotel, chef and restaurant uniforms as well as alumni chef jackets for the Culinary Institute of America.
Promotional products, items, decorated apparel and accessories, such as; custom fleece jackets, hats, polo shirts, fleece blankets, sweatshirt blankets, custom embroidered shirts, custom embroidered coats, embroidered hoodies, golf shirts, tote bags, custom embroidered sweatshirts and aprons that can be customized with the following apparel decorating methods:
Embroidery
Tackle Twill
Appliqué
Direct to Garment Printing (DTG)
Sublimation
Crooked Brook ships worldwide. Hours of operations are 7:00 a.m. to 7:00 p.m. EST, seven days a week. Reach them at (315) 733-1992 to learn more.