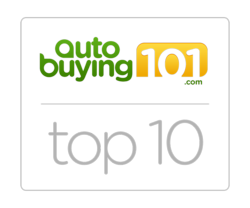 "Labor Day is a day to honor the hard working people that make America great, and we want to celebrate the hard working vehicles that help them get the job done," said Gordon Blau, Editor of AutoBuying101.com.
Carlsbad, CA (PRWEB) August 29, 2012
AutoBuying101.com, the essential consumer guide on how to get the best deal, today announced its 2012 selections for the Top 10 Hardest Working Autos, including pickup truck, crew truck, cargo van, family, city, and luxury options. This list includes a variety of vehicles that offer the utility, capability and versatility to accomplish the tasks at hand.
"Labor Day is a day to honor the hard working people that make America great, and we want to celebrate the hard working vehicles that help them get the job done," said Gordon Blau, Editor of AutoBuying101.com. "Whether you need a rolling workshop or miniature moving van, whether you're hauling plywood or people, our Top 10 picks work hard to suit individual needs."
AutoBuying101.com's 2012 Top 10 Hardest Working Autos include:
Hardest Working Pickup: Ram 1500
Highlights: The Ram 1500 has the features that make it stand out from the pack, including their clever RamBox storage system.
Stats: MSRP $22,570, MPG 20 hwy/14 city
Hardest Working Crew Truck: Toyota Tundra CrewMax
Highlights: It takes care of it's hard-working occupants with significant legroom front and rear, and with the most cupholders by far, so the crew can easily hydrate and caffeinate on the way to the job.
Stats: MSRP $30,335.00, MPG 20 hwy/15 city
Hardest Working Cargo Van: Nissan NV High Roof
Highlights: The most cargo volume in its class, the lowest load floor height for easy step-in, and the tallest interior standing height by far.
Stats: MSRP $28,600, MPG 16 hwy/12 city
Hardest Working Compact Van: Ford Transit Connect
Highlights: Bringing 4-cylinder efficiency to the van category, but with a compact footprint that makes it easy to maneuver and park with nearly 130 cubic feet of cargo space.
Stats: MSRP $22,265, MPG 27 hwy/21 city
Hardest Working Off Road Auto: Jeep Wrangler Unlimited
Highlights: The Wrangler has a legendary off-road reputation, can handle itself in a variety of conditions, and also has multiple options for hauling gear and towing.
Stats: MSRP $25,695, MPG 21 hwy/16 city
Hardest Working Family Auto: Chrysler Town & Country
Highlights: A versatile vehicle that can load maximum passengers and/or maximum cargo. With its nifty Stow N' Go seating, no minivan offers more flexibility.
Stats: MSRP $29,995, MPG 25 hwy/17 city
Hardest Working Wagon: Subaru Outback
Highlights: The Subaru Outback takes the wagon format and elevates it to an all-weather art form, with excellent utility, safety, and economy.
Stats: MSRP $24,495, MPG 30 hwy/24 city
Hardest Working City Auto: Honda Fit
Highlights: Maximum efficiency at a minimum cost. Small footprint outside, great gas mileage, and with its Magic Seat feature, spacious cargo capability inside.
Stats: MSRP $15,325, MPG 33 hwy/27 city
Hardest Working Luxury Auto: Range Rover
Highlights: The bloodlines for true trail-busting, this is a vehicle that can eagerly handle the back woods or concrete jungle in style.
Stats: MSRP $72,277, MPG 18 hwy/12 city
Hardest Working Exotic Auto: Ferrari FF
Highlights: With copious power and torque, Ferrari's custom AWD system, comfortable seating for four, and a surprisingly useful hatchback, this exotic grand tourer is an unexpected utilitarian.
Stats: MSRP $295,000, MPG 17 hwy/11 city
AutoBuying101.com strives to simplify the auto buying experience and help buyers get the best possible deal using all of the data, details, and resources available on the Web. For more detailed information on the 2012 Top 10 Hardest Working Autos, visit: http://www.autobuying101.com/reports
About AutoBuying101.com
AutoBuying101.com is an independent online resource for shoppers to find helpful information and auto buying tips on how to get the best deals on any new auto or used auto (including cars, trucks, SUVs, and hybrids). Founded by automotive industry veterans, AutoBuying101.com provides a simple step by step process on how to buy a car, that arms each shopper with the critical information and resources needed to make a confident purchase. The information, resources, and tools provided on the site cover all major aspects of the process including financial planning, researching and comparing vehicles, and products and services that help consumers get the best deal. In addition, consumers can shop for vehicles directly using the Dealer Select Pricing Tool™ to get free auto price quotes from local dealers, and view real time inventory on more than 1,000,000 cars for sale nationwide. Resources listed on the site are carefully vetted by automotive analysts and only the top rated Websites are recommended to consumers.
AutoBuying101.com is owned and operated by Condurre Media, headquartered in Carlsbad, California. Connect with AutoBuying101™ via twitter.com/autobuying101, facebook.com/autobuying101, and youtube.com/autobuying101.
Media Contact:
AutoBuying101.com Media Inquiries: media(at)autobuying101(dot)com, 858-345-5644