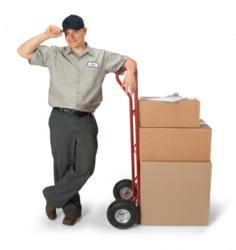 Los Angeles, CA (PRWEB) September 14, 2012
Los Angeles Commercial Movers announced "Tips for Moving a Commercial Office," in a new article that one of LA's most trusted commercial moving companies put out today.
The article states that any move is stressful. When Americans were polled about moving, they said that it was one of the most nerve-wrecking events after death or divorce. However, a commercial move does not need to be filled with stress, not if one follows these easy tips.
Set and follow a firm schedule - Pick a moving date, and figure out how long packing will take. Let the staff know exactly what they need to do and when. Confusion always leads to a loss in productivity, so write out dates and times for packing up workstations and personal belongings before the actual move.
Buy proper supplies and labels - Office equipment is often expensive and heavy. Don't skimp on buying proper moving supplies. Visit a local moving supply store and buy boxes, bubble wrap, shrink wrap, pads, computer boxes, etc. Consult with the store salesperson to see what the office will need.
Labels are essential to be able to know which box belongs to which employee. If choosing to hire Los Angeles commercial movers, they will need to know which piece of equipment needs to go where. Each box should be labeled with the contents and location, example 'monitor, CEO's office.'
Keep track of security risks - The contents of the office safe, sensitive documents, credit card details, and other high value items should be moved separately. Assign a manager, and make these boxes his/her personal responsibility, or handle it yourself.
The LA moving company provides free, non-binding moving estimates, and works with business owners on setting up a moving plan to relocate an office in the quickest and most efficient manner possible. They provide their our own packing supplies, and can pack an entire commercial space. They can move electrical equipment, medical equipment, clothing racks, window displays, take down and put up cubicles, move filing cabinets, etc.
LA Commercial Movers, operated by parent company, Melrose Moving, is licensed and insured, and registered with the PUC. Rated A by the Better Business Bureau, the company also has excellent reviews online.
For more information, visit Commercial Movers Los Angeles.