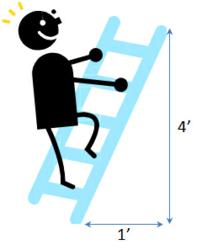 Ladder accidents are responsible for 90,000 emergency room visits each year.
Jacksonville, FL (PRWEB) December 01, 2011
Hanging Christmas Lights Can Be Fatal, Toltek Services, LLC (Home of the Maintenance Guru) Provides Home Ladder Safety Tips
Ladder accidents are responsible for 90,000 emergency room visits each year. For many, the annual ritual hanging Christmas lights will result in a trip to the emergency room and some falls may be fatal. Toltek Services, LLC helps home owners and business men and women prepare for a safe Christmas light hanging project anywhere ladders are used.
Have you every driven past someone working and thought to yourself, that doesn't look very safe? Toltek Services' Maintenance Guru has seen the results of improper ladder safety first hand. As a small boy, he was working with his dad (a plumber) building the new retail store in Douglas, Wyoming. The basement walls and slab had been poured and an aluminum ladder was being used to exit the basement area. Unfortunately, the ladder had no rubber feet to keep it from sliding out across the smooth cement slab. Making matters worse, between the ladder and the wall was a sawhorse. The Maintenance Guru's dad was leaving the basement area and had nearly reached the top of the wall when the ladder began to slid out, and on the way to the ground, his forearm hit the sawhorse resulting in a separated shoulder and a trip to the emergency room.
Ladder accidents injure Professionals daily and the sad part is most of the injuries could have been prevented. The National Association of Home Builders reports that 135 fatalities occurred during 2003 and 2006. These statistics represent professionals who use ladders daily and do not take into account casual home users. The Consumer Product Safety Commission reports that more than 90,000 people receive emergency room treatment for ladder accidents each year. There are countless more accidents that go unreported.
Safety begins with planning and each plan should include an inspection of the equipment being used. Not only should your lights be tested before you begin hanging them, but the ladders you are using should be inspected as well. The Maintenance Guru recommends inspecting ladders before every use by implementing following checklist.
Ladder - Portable
If the answer is "yes" to any of the questions below, make repairs before using the ladder.
General Inspection (all ladders)
1. Are there loose steps or rungs (should not be able to move a rung by hand)?
2. Are there loose fasteners such as nails, screws, bolts, or other materials?
3. Are there cracked, split, broken, rust or decayed uprights or rungs?
4. Are there slivers (metal or wood) on uprights, rungs, or steps?
5. Are there rungs missing?
6. Is grease, oil, or slippery material on steps or rails?
7. Do movable jam or scrape when operating?
8. Is the base (non-skid) material missing?
Stepladders
1. Is the ladder wobbly or does it appear to be asymmetrical (not sit squarely on the ground)?
2. Are the hinge spreaders loose or disconnected at both ends on all rails?
3. Is the hinge on each spreader fastened loosely or missing in the center creating a wobbly or loose connection from rail to rail?
Extension Ladders
1. Are the extension locks missing or not functioning properly?
2. Are the extension locks missing or seated improperly on the desired rungs to lock the ladder securely in place?
For every four feet in height the ladder should be placed one foot out away from the wall as demonstrated in the picture above.
Other Helpful Ladder Safety Hints:

One person should be holding the ladder while anyone is on it.
Use a bucket and a rope to haul tools from the ground instead of carrying them while climbing the ladder.
Place the ladder where the work is and not to the left or right forcing a user to reach away from the ladder. The user's shoulders should remain centered within the ladder rails.
Wear sneakers or soft soled shoes with good grip when on a ladder.
Do not use metal ladders for electrical work.
Keep the area under your ladder cear.
Glue a label on the ladder (mailing labels work well) and write the date of the last inspection.
Inspect your ladder before and after lending it to a friend.
Teach family members how to inspect and care for ladders.
Remember this: "If it doesn't look safe, it probably isn't."
The Maintenance Guru is dedicated to keeping his subscribers safe so they can enjoy the season in efficient and trouble free homes and businesses across the country and around the world.
Dave Risha, President of Toltek Services, LLC is the Maintenance Guru. Dave was a master plumber at the age of 17 and has operated and maintained facilities across the country for over 35 years. His company provides money saving preventive maintenance advice and instructions to homeowners and small businesses across the country through a subscription service located at http://www.maintenanceguru.com. Lower utility bills, extend equipment life, require fewer repairs, and increase home and office safety by subscribing today. Savings are guaranteed or your money back.
###