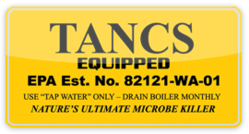 The yellow sticker tells you in a glance that your Ladybug Tekno 2350 qualifies as a disinfection device for the EPA.
Vernon Hills, Illinois (PRWEB) April 24, 2013
LadybugSteamCleaners.com, an authorized internet dealer that sells Ladybug vapor steam cleaners online to consumers and businesses in all 50 states—and to walk-in customers who visit their Chicago-area showroom—today announced that the Ladybug Tekno 2350 steam cleaner was its top-selling steam vapor system for the first three months of 2013.
"We just ran the numbers, and it wasn't close," said V. K. Dunlop of LadybugSteamCleaners.com. "That our highest priced steam vapor system is our top seller doesn't shock or stun me. It's an amazing device with a performance level too stunning to go unnoticed."
The Tekno 2350 ships standard with Ladybug's proprietary patented Thermo Accelerated Nano Crystal Sanitation (called TANCS®) technology.
"Imagine being able to disinfect just about any surface better than traditional chemical disinfectants using only tap water," says Dunlop. "That's just what Ladybug vapor steam cleaners equipped with Ladybug's TANCS® technology do."
According to Dunlop, Ladybug sets the pace in the cleaning industry when it comes to chemical-free disinfecting, and with its proprietary patented TANCS® technology the brand demonstrates its leading role in this field.
"TANCS® is not an ingredient you add to your Ladybug steam cleaner," says Dunlop. "Nor is it an attachment. TANCS® is a factory-installed internal component that modifies the crystal structure of the naturally occurring minerals in ordinary tap water to destroy microorganisms in a very short time."
When a Ladybug steam cleaner with TANCS® is turned on, the water and minerals pass through the boiler, where the heat converts the water to superheated steam. Before the steam exits the boiler, the crystal structure of the decomposing minerals is modified, allowing the steam to carry these 'energized crystals' to the surface of what is being cleaned. The result is a process that destroys microorganisms almost instantly while inhibiting the growth of new biofilm, or microorganism colonies, as the change in crystal structure combined with the superheated steam leaves no place for biofilms to attach.
TANCS®-equipped Ladybug steam vapor systems like the Ladybug Tekno 2350 steam cleaner have been scientifically proven to clean better than traditional disinfectants. Because they qualify as disinfection devices for the U.S. Environmental Protection Agency (EPA), they proudly display a sticker that says "EPA Est. No. 82121-WA-01" in bold letters.
"The yellow sticker tells you in a glance that your Ladybug Tekno 2350 qualifies as a disinfection device for the EPA," says Dunlop.
Located in Vernon Hills, Illinois, LadybugSteamCleaners.com is moving fast to educate consumers and businesses that finally, there's a feasible, environmentally friendly alternative to chemicals. For more information, call 1-877-840-2977. LadybugSteamCleaners.com is a proud member of the Safer Chemicals, Healthy Families coalition, a nationwide effort to protect families from toxic chemicals. To stay safe and avoid toxic chemicals, keep abreast of the latest news with LadybugSteamCleaners.com's Twitter account, @LadybugSteam.