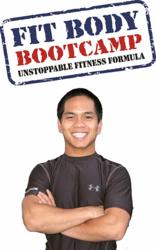 I have my degree in finance but the fitness industry fell into my life. And no matter how much money I could make on Wall Street, it cannot give me the feeling that I get when I help change someone's life. Tien Do, Owner of La Habra Fit Body Boot Camp
La Habra, CA (PRWEB) November 26, 2012
Owning successful fitness boot camp franchises in La Habra and Cypress were the last thing on Tien Do's mind in 1993. Instead, it was getting accustomed to his new country and learning how to read and write the English language was the first priority. Tien Do is a Vietnamese immigrant who came to the United States as a 7 year old with his family with very little belongings, but with hope for a better life.
Through hard work and perseverance, Do and his family began to lay the foundation for a new life. Do's dedication, work ethic and dependability were desirable skills that had his friends asking him to do them favors. As luck would have it, one of those favors consisted of Tien "babysitting" a gym for one of his friends. Do immediately caught the fitness bug. The owner of the gym was so impressed with Do's energy that he ended up paying for Do's personal training certification.
When Do decided to go out on his own to develop his fitness business, he researched several business models, and was attracted to Fit Body Boot Camp because of its proven sales and marketing and operations processes. Coupling Fit Body Boot Camp's fitness boot camp franchise business model with Do's work ethic, Do has successfully grown Cypress Fit Body Boot Camp and recently opened La Habra Fit Body Boot Camp. Since starting out in 2010, Do has impacted the lives of over 1,000 clients, and now employs 8 employees and trainers between his 2 locations.
"I wanted to be a Wall Street guy. I have my degree in finance but the fitness industry fell into my life," says Do, La Habra boot camp owner. "And no matter how much money I could make on Wall Street, it cannot give me the feeling that I get when I help change someone's life."
"Besides the weight being gone I'm a happier person. I don't find excuses anymore to not do things," says member Megan Starr. "My health is better. I have more energy. I'm just enjoying my life more and actually experiencing it."
"Fit Body has changed my life. I started out as a boot camper and lost 20 lbs.," says Kathryn Yenko, member and now Manager of Fit Body Boot Camp. "Now that I am a part of the staff, I can help others do what I did and it's so rewarding to see that change."
About La Habra Fit Body Boot Camp
La Habra Fit Body Boot Camps is part of the family of the Fit Body Boot Camp fitness boot camp franchise, whose Global Goal is to expose and engage twenty percent of the world's population to a healthy and fit lifestyle by 2020. It is owned and operated by Tien Do, whose passion for helping his clients get fit and lose weight are only surpassed by his desire to make sure they have fun while meeting their goals. For more information about La Habra Fit Body Boot Camp, please visit http://www.fitbodybootcamp.com/CA/La-Habra-fitness-boot-camp or call (714) 759-4131.