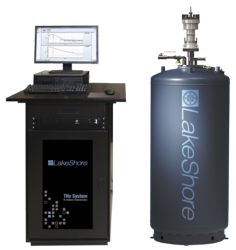 The new THz system is expected to provide new insight into the physical properties of emerging new materials.
Columbus, OH (PRWEB) April 03, 2013
Lake Shore will exhibit at the 2013 SPIE Defense, Security and Sensing (DSS) conference, April 29 to May 3 in Baltimore. Lake Shore will present its new terahertz (THz) materials characterization system and THz band pass filters at DSS, one of the largest exhibitions for optics, photonics and imaging technology for defense and security applications.
Lake Shore's BPF Series THz band pass filters block noise and improve signal detection and imaging due to their novel free-standing metal mesh technology, and are commonly used in THz and millimeter wave imaging, security and spectroscopy. The THz filters join Lake Shore's line of IR band pass and IR long pass filters. A special show discount will be available to attendees.
As the terahertz gap holds much interest and promise for the Defense and Security community, Lake Shore will highlight its THz materials characterization system at DSS. The system, currently in testing at several key research institutions, is expected to provide new insight into the physical properties of emerging new materials being explored for high-speed computing, storage, imaging and communications applications.
Attendees can visit SPIE DSS booth 1542 or the Lake Shore website for more information.
About Lake Shore Cryotronics, Inc.
Supporting advanced research since 1968, Lake Shore (http://www.lakeshore.com) is a leading innovator in measurement and control solutions for materials characterization under extreme temperature and magnetic field conditions. High-performance product solutions from Lake Shore include cryogenic temperature sensors and instrumentation, magnetic test and measurement systems, probe stations, and precision materials characterizations systems that explore the electronic and magnetic properties of next-generation materials. Lake Shore serves an international base of research customers at leading university, government, aerospace, and commercial research institutions and is supported by a global network of sales and service facilities.