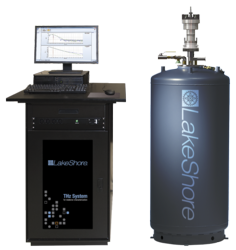 The new THz system will allow researchers to explore important phenomena in novel electronic and magnetic materials.
Columbus, OH (PRWEB) March 28, 2013
Lake Shore Cryotronics will exhibit at the 2013 Materials Research Society (MRS) Spring Meeting & Exhibit, April 1-5 in San Francisco. The annual Meeting showcases the latest developments in materials research and boasts over 50 symposia and over 5,000 attendees.
In addition to its cryogenic probe stations, Lake Shore will be highlighting its terahertz (THz) materials characterization system, a prototype product the company revealed earlier this month at the APS March Meeting. Slated for late 2013 delivery, the new system will allow researchers to explore important phenomena in novel electronic and magnetic materials, using non-destructive, non-contact THz energy.
"We received an overwhelmingly positive response to the THz system at our Materials Research forum at the March Meeting, and we look forward to learning from MRS members about its application to their research," said Scott Yano, engineering manager for Lake Shore.
Lake Shore experts are developing measurement solutions that will enable scientists everywhere to reliably explore the THz gap in pursuit of new insights into the physical properties of electronic and magnetic materials. Attendees can visit MRS Spring Meeting booth 308 or the Lake Shore website for more information.
About Lake Shore Cryotronics, Inc.
Supporting advanced research since 1968, Lake Shore (http://www.lakeshore.com) is a leading innovator in measurement and control solutions for materials characterization under extreme temperature and magnetic field conditions. High-performance product solutions from Lake Shore include cryogenic temperature sensors and instrumentation, magnetic test and measurement systems, probe stations, and precision materials characterizations systems that explore the electronic and magnetic properties of next-generation materials. Lake Shore serves an international base of research customers at leading university, government, aerospace, and commercial research institutions and is supported by a global network of sales and service facilities.