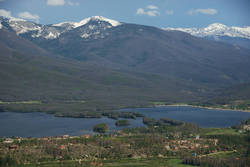 "Come see, enjoy, stay and play"
Grand Lake, CO (PRWEB) July 17, 2010
The far shore is National Park land that can never be developed. Zoning for this deep building site suggests construction of a massive tri-level timber and log home with separate garage, boathouse and dock for unfettered navigation to historic Grand Lake, the State's largest natural lake, at the headwaters of the mighty Colorado River. See nearby live webcam for a daily view. This and other premium waterfront properties are a five minute drive from the West Portal of the Rocky Mountain National Park and newly created 250,000 acre Wilderness Area, lauded by US Interior Secretary Ken Salazar, as a Crown Jewel.
At the Park's gateway is the colorful Old West village of Grand Lake. Founded in 1879, the quaint little village is an immensely popular mountain retreat from the plains' sweltering summer heat. Area beaches and marinas are frequented by boaters and water sportsmen of all types ... anglers, water-skiers, sailboaters and jet-skiers alike. Nearby craggy peaks and glistening streams beckon backpackers, hikers, climbers and fly fishermen...
The adjacent National Park hosts free roaming elk herds and other protected wildlife, including moose, deer and beaver. Naturalists and outdoorsmen can gaze upon towering snowcapped peaks sprinkled with golden aspen and blue spruce, often cloaked in autumn by newly fallen snow or bathed by rivulets of refreshing glacier melt. Ascending over 12,000 feet, Trail Ridge, traversing the Great Continental Divide, is America's highest continuously paved road. It parallels a faintly visible ancient Native American trail connecting the Great Plains with the sacred headwaters of the Colorado River and beyond though the Great South West to the Gulf of California.
The surrounding Arapaho National Recreation Area is the State's snowmobiling capital boasting over a hundred miles of groomed trails. Long known as Colorado's summer playground, the Area's three great lakes are an outdoor, year-round sports mecca with ready access to other leading multi-sport resorts. Grand Lake is a comfortable two hour drive from mile high Denver. Driving time from the Lakes Resort Area to the popular Winter Park/Mary Jane Ski Resort is less than an hour away. Add another hour or so to reach Vail, Steamboat Springs or Breckenridge.
To learn more about the Three Lakes Area, National Park and lofty golf courses, hiking trails, fishing, water or jet skiing and much more ... just refer to Rocky Mountain Properties.com. Then head for Grand Lake's Annual Buffalo Barbecue ... come enjoy America's highest altitude sailboat regatta and Lipton Cup Races ... July 31st through August 8th. Grand Lake is the place to be, summer or winter. Why not come, see and play?
# # #