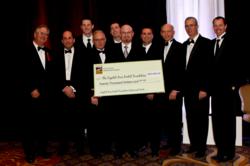 La Grange, TX (PRWEB) March 25, 2013
Austin Oral Surgery made a donation to the 86th Annual Fayette County Fair this month.
Fayette County will host the fair from Aug. 30 to Sept. 2 in La Grange, Texas and will showcase popular country music stars during the fair. Fair visitors can also visit petting zoos, a local talent show, a variety of animal competitions, educational events for children and other entertainment.
"The Fayette County Fair is always a fun time for the entire family," Dr. Clay Fuselier said. "Music lovers have access to some of the best country music acts in the nation. People who admire ranch animals get to attend horse, sheep and dairy shows. Children get to explore so many different agricultural jobs and activities. The Fayette County Fair really has something for everyone, and it's an event worth supporting."
The Fayette County Fair also boasts a large selection of food choices for attendees, mostly offered by local restaurants and nonprofit organizations. Visitors to the fair can take advantage of traditional fair food, including turkey legs, roasted corn, funnel cakes and more.
Austin Oral Surgery makes an effort to give back to its community. In addition to a large number of donations to local charities, Austin Oral Surgery recently established the Austin Oral Surgery Legacy Fund with the Capital Area Dental Foundation to provide funding for community dental care. To learn more about the oral surgeons at Austin Oral Surgery, click here.
About Austin Oral Surgery
Austin Oral Surgery is an oral and maxillofacial surgery practice with 10 locations in the Austin area, extending from San Marcos to Temple and La Grange to Marble Falls, including an oral surgery practice in Lakeway. The practice's 12 doctors provide individualized oral care in all of their services, including wisdom teeth removal, dental implants, corrective jaw surgery, facial trauma treatment and surgery, sleep apnea treatment and TMJ treatment. Since it was founded 41 years ago, Austin Oral Surgery has provided quality care to each of its patients through the team's dedication to excellence.
###