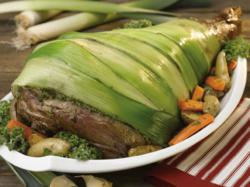 Too few consumers know they have the option of choosing American lamb, an irresistible delicacy, raised on U.S. pastures by family farmers.
Bronx, NY (PRWEB) March 14, 2013
Cedar Springs American Lamb offers preparation tips and recipe ideas for Easter and Passover. Consumers can also win a Leg of Lamb on the Mountain States Rosen Facebook Page.
As consumers acquire more worldly tastes, they seek to blend meal traditions with new experiences. Lamb has always been viewed as extraordinary and yet symbolic of the ultimate celebration—easily satisfying both traditionalists and food adventurers.
Restaurant chefs have begun heralding lamb from the U.S. for its tender, rosy and uniquely delicious characteristics. It can be smooth and supple but also stand up to bold spices. "American lamb has endless possibilities," said Chef Nuno Alves. Chefs Chris Douglass and Nuno Alves of Tavolo have helped transform Boston's up-and-coming neighborhoods, including the South End and Dorchester, into dining destinations. "My passage from butcher to chef, gives me a strong appreciation of lamb's versatility and potential," said Alves. "Preparations can be simple, yet amazing. Like glazed lamb ribs with hazelnuts; or braised lamb with farro. Too few consumers know they have the option of choosing American lamb, an irresistible delicacy, raised on U.S. pastures by family farmers."
Cedar Springs Lamb producers pass along decades of lamb breeding and careful raising protocols, ensuring that finely-tuned genetics, exercise regimens and the nutritious blends of grass and grain feed yield the most delicious, tender and juicy eating experience imaginable. In addition to its mouthwatering taste, lamb is an excellent source of protein, vitamins B12 and niacin, zinc and selenium; a good source of iron and riboflavin; and on average, has only 175 calories per 3-ounce serving.
Cuts Fit for Royalty
Fresh lamb meat should be pink to pale red with firm, white fat. Prized cuts for holidays include leg of lamb, rack of lamb and lamb loin. Leg of lamb is a lean, tender cut which should be deboned or "butterflied," if marinating or stuffing the leg. For a traditional, oven-roasted lamb leg, purchase semi-boneless which is compacted to aid cooking, but has enough bone to flavor the cut as it roasts.
Rack of lamb, considered the most exquisite cut, is typically sold whole (seven or eight ribs) or cut into rib chops. Rack of lamb is often "Frenched", which means the ribs are cleaned of meat and connective tissue before cooking. Another popular cooking method is to tie two racks together in a circular shape with the meat facing out, which is known as a "crown roast".
The loin is very tender and can be prepared as chops or as a roast. Loin chops are leaner than rib chops and lack the rib bone, delivering excellent flavor when grilled, broiled or sautéed.
For safety, experts advise cooking all cuts to an internal temperature of 145°F, as indicated by a meat thermometer. Click here for more tips on cooking and handling of lamb.
American Lamb Recipes:
Just a few spices or easy marinade make for an unforgettably delicious dish. For a stunning presentation, serve this Leg of Lamb Wrapped in Leeks. For additional recipe ideas, visit mountainstatesrosen.com.
Chance to win all natural* Cedar Springs lamb, free!
Have a favorite recipe or tip for preparing lamb? Now through March 20, readers can share serving suggestions on Mountain States Rosen's Facebook page and enter to win a 5-6 lb Cedar Springs Leg of Lamb.
About Mountain States Rosen
MSR is committed to providing the finest lamb and veal in the country and has received the global Safe Quality Food Institute's top-ranked food safety certification: SQF Level 3. As a producer-owned company, the MSR family adheres to responsible raising practices, land management and conservation. Cedar Springs brand is USDA "all natural" -- young and earthy; tender and juicy, with the fresh taste associated with springtime. For more information, please visit mountainstatesrosen.com.