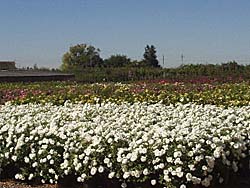 This competitive advantage may very well mean the difference in the job being awarded to YOU
Sunol, CA (PRWEB) October 21, 2011
Western Star Nursery, a wholesale nursery in the Bay Area and Sacramento, is excited to announce it has recently been approved as a small business under the County of Alameda's Small, Local and Emerging Business (SLEB) Program. The program, which aims to promote the patronage of small and local businesses, gives preference points to bids from contractors for government jobs within the County when they partner with SLEB businesses.
Any business bidding on a city, county, state or federal project that will be installed in Alameda County can qualify for up to10% preference points (5% local and 5% certified) by partnering with Bay Area landscape supply wholesaler Western Star Nursery.
"This competitive advantage may very well mean the difference in the job being awarded to you," says Sally Painter, owner of Western Star Nursery. "Please call us to for our certification number and a copy of the certificate to include with your bid(s)."
The program was developed because "the County is vitally interested in promoting the growth of small and emerging local businesses by means of increasing the participation of these businesses in the County's purchase of goods and services." For more information about the Alameda County SLEB program, visit http://www.acgov.org/auditor/sleb/.
For more information about partnering with Western Star Nursery to receive SLEB points on a bid in Alameda County, or any of the Bay Area landscape design company's products or services, call them at (925) 233-0023 (East Bay) or (209) 744-2552 (South Sacramento), view them on the web at western-star-nursery.com, or visit one of their locations in Sunol or Galt.
About Western Star Nursery
Western Star Nursery is a wholesale nursery in Sacramento and the Bay Area serving landscaping contractors, developers, and commercial nurseries. Founded in 1996 by Robert and Sally Painter, Western Star Nursery has earned a reputation for growing high-quality products and offering superior service. From the most commonly used ornamental varieties to unusual phormiums, they stock a large and diversified selection of 1 gallon through 36" box trees and shrubs on over 100 acres. They also offer an efficient brokerage service and contract growing. The Western Star staff, many of whom have been with the company since its start, bring with them many years of nursery and customer service experience. Western Star features will-call, delivery and shipping services.
Western Star Nursery has locations in Sunol and Galt, and provides landscape design services and landscape supply to the Bay Area, Sacramento, and northern California. They offer delivery service throughout California and Nevada.
###