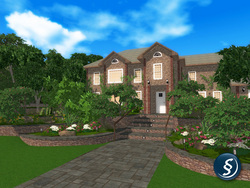 Las Vegas, NV (PRWEB) May 4, 2009
Structure Studios brings "Instant 3D" to the landscaping industry with the release of VizTerra Professional 3D landscape design software.
VizTerra's fully interactive 3D presentation allows landscape designers to take the customer on a tour of the finished site before the first tree is ever planted. Every part of the design, including structures, hardscapes, curbing, landscaping, water features, outdoor kitchens, fire pits and more can be created in fully detailed 3D. The realistic presentation even allows the customer to see in real time how the design appears at different times of day, from morning to night.
The unique "Instant 3D" presentation system allows professionals to draw hardscapes, planters, structures and more in flat 2D and instantly present in interactive 3D. The material of any surface created can also be changed with just a click of a mouse button. VizTerra features a real time terrain system that allows cliffs, rolling hills, and other elevated ground to be created in 3D.
VizTerra serves the designer from initial concept to construction. The landscape design program produces professional plans ready for construction. Designers can choose from a library of over 2,000 industry standard symbols to represent plant species and container sizes. All landscaping is represented in the presentation as fully rendered 3D objects.
The powerful professional tools of VizTerra landscape design software were designed for everyone in the landscaping field. Landscape architects, landscape designers, as well as designers for parks, golf courses, campuses, business complexes and more will all benefit from the stunning 3D design abilities of VizTerra.
Structure Studios offers VizTerra landscape design software complete with free technical support, free training, and free software updates. When VizTerra users call the technical support line at 800.778.8996 they are connected directly to the support department at Structure Studios. The training classes are offered online and conducted live with a trainer. When new updates for VizTerra become available they automatically download to the software. The main website at http://www.structurestudios.com also includes an online community where VizTerra users can share information and experiences about using the software.
About VizTerra
The 3D Professional landscape design software from Structure Studios, VizTerra transforms standard 2D designs into a 3D virtual experience with the click of a button. VizTerra's powerful format is easy to learn and simple to use for every professional. Free training, technical support, and software updates direct from Structure Studios ensure VizTerra remains the state of the art.
About Structure Studios
Structure Studios of Las Vegas, Nevada, has been creating professional 3D design software since 2000. Widely recognized as an accomplished leader in innovation and development, Structure Studios boasts some of the industry's most talented developers. Extensive experience in computer design and 3D creation have enabled the Structure Studios team to provide the best quality, most realistic, and easiest to use 3D visualization in the industry. To learn more about Structure Studios, visit http://www.StructureStudios.com or call 800.778.8996.
Contact:
Stefanie Dunn, Marketing Contact
Structure Studios
702-818-8185
http://www.structurestudios.com
# # #