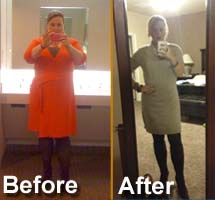 'That's what Dr. Patel is good at,' Marti said. 'Telling you about yourself without making you mad.'
San Antonio, TX (PRWEB) March 05, 2013
Dr. Nilesh A. Patel is pleased to announce a breakthrough with a Lap Band procedure performed on Martha Morgan of San Antonio, TX which helped her stop fad diets, finally lose weight, and overcome numerous health issues. A year ago, Martha Morgan was on her way to her pre-operation class, a few weeks before her remarkable Lap Band procedure with Dr. Patel, when she hit rock bottom. "I ate six Krispy Crème donuts on the way there," Marti recalls. That was when she realized she had hit rock bottom and food had become her drug of choice.
Marti struggled with her weight nearly her entire life, as did her family. As a child, she went through a chubby phase but her teenage years were much better for her. She was active as a teen so it was easy for her to stay thin and still be able to eat whatever she wanted. It wasn't until she finished high school and started her job that her weight started to get out of hand. She was still eating whatever she wanted but was no longer as active as in her teenage years.
After her marriage, Marti ran into further problems that affected her weight. On top of feeling bad about her self-image, her mother was diagnosed with cancer and Marti was also struggling to have a child and taking fertility treatments. When her mother passed away, depression hit and her weight was so bad that she couldn't even walk up a flight of stairs without getting winded.
She began dieting. "I tried every diet – Weight Watchers, Atkins, Jenny Craig, Nutrisystem, but I would just lose it, gain it back, lose it, gain it back – it was a cycle." Next, she started researching the Lap Band procedure and that is how she found Dr. Patel on the News Channel website. She decided to attend one of his free seminars and after meeting with Dr. Patel, she started to complete the tests he prescribed before surgery. Marti also enjoyed her visits with Dr. Patel's PA-C, James Houston. "James is good at telling you about yourself without making you mad."
Thinking back to the first weight loss seminar, Marti stated, "To be perfectly honest, it started as a vanity. Then I started getting the test results back." Her tests showed major health issues including high cholesterol, sleep apnea, and she was on the verge of diabetes, "Then it became more than a vanity." Determined to become healthy along with losing weight, Marti readied herself for surgery and that was when she had the Krispy Crème attack. After eating six donuts on the way to her pre-op class, she was finally convinced she needed the surgery. "That was the clincher for me," she recalls. "Food had become my drug of choice."
Knowing the procedure wasn't magic; Marti knew she had to make a lifestyle change once the procedure was complete. After her procedure, she began going to the gym and after just a few months, she started to see drastic changes. "My yoga pants were literally falling off when I was running on the treadmill!" And, less than one year after her surgery, she completed a 5k! Another big enjoyment for her was boxing up all her old fat clothes and shopping for new, slimmer outfits.
Marti's surgery was a big success. She is now a whole new person who feels her outgoing, fun personality matches how she newly looks on the outside, too. "The surgery changed my life!"
About Texas Bariatric Specialists
Founded by Dr. Nilesh A. Patel, MD, a nationally recognized and fellowship-trained bariatric surgeon, Texas Bariatric Specialists (TBS) is a holistic weight loss practice focused on delivering long-term weight loss solutions for patients. Dr. Patel specializes in surgical weight loss procedures including Lap Band, Gastric Bypass, Gastric Sleeve, Gastric Band, and the revision of failed weight loss surgery, which have resulted in over 2,500 surgeries exceeding the national average of successful weight loss management. With a commitment to surgical expertise, compassionate care and exemplary preoperative and postsurgical consultative services, Dr. Patel and his staff at Texas Bariatric Specialists ensure successful weight loss management for their patients through long-term relationships to support good health. Offices are located across major cities throughout Texas including San Antonio, Austin, Corpus Christi, New Braunfels, Seguin, Boerne, Kileen, Temple, Del Rio and Laredo. For more information, or to book a free informational seminar, please visit http://www.texasbariatricspecialists.com.