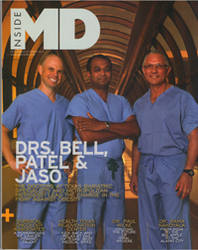 The number of people overweight is not frustrating, but motivation to push forward
Austin, TX (Vocus) October 24, 2010
Lap Band Surgery in Austin Saves Lives, Honored with NSIDE MD Magazine's Cover Story
This month's October issue of NSIDE Magazine Austin honored Texas Bariatric Specialists on their cover for their commitment to fighting obesity in South Texas with minimally invasive surgical weight loss procedures, such as Lap Band Surgery. In the magazine Dr.'s Patel, Bell, and Jaso discuss their views on treating obesity and how it has affected the obese in Austin. When asked about obesity in south Texas Patel responded "The number of people overweight is not frustrating, but motivation to push forward", adding that the statistics would be depressing, "if I thought we could not make a difference. And by God, are we going to make a difference."
Usually when you think of a serious illness you don't picture it being something we see everyday. The same was once thought of during the golden age of smoking, until advocacy and research uncovered the harmful effects of smoking. Today the elephant in the room is obesity AKA the number one cause of preventable mortality in the US.
"The Austin office has grown tremendously in the past few years," he said today. "Its important that our state capital know the work we are doing to make a difference in the fight against obesity with Gastric Bypass Surgery, Gastric Sleeve Surgery and Lap Band Surgery in Austin."
"Being on NSIDE Magazine's cover is really an honor that I can appreciate and then move on because there are many things we still have to do."
About Texas Bariatric Specialists- In the past five years, Dr. Patel's San Antonio-based practice has performed over 2000 surgeries and has expanded their offices in nine cities across Texas including Austin, Corpus Christi, Killeen, New Braunfels, Boerne, San Antonio, Baytown, Beaumont, and Del Rio. Austin Lap Band Surgery patients can attend evening and Saturday seminars that fit their busy schedule. Dr. Patel is now regularly featured within "Ask the Expert" segments on local news programs, is recognized as a Centers of Excellence Surgeon by the American Society of Metabolic and Bariatric Surgery and remains an advisory board member for Obesityhelp.com. His practice continues to exceed national averages of weight management success due to surgical expertise, compassionate care and exemplary pre- and post-surgery consultation of services.
Contact: Allen Buck
877-538-6909
contact(at)texasbariatricspecialists(dot)com
###