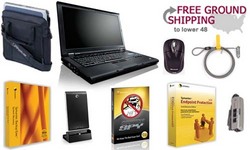 Our laptop packages help to quell the anxiety felt by small business owners and managers who don't know what technology to buy or who will do the preparation work
Poway, CA (Vocus) July 7, 2010
The Main Showroom at jackrabbit.com now offers three new, complete, ready-to-use laptop for business packages to small businesses nationwide. Each package is built around a top-of-the-line HP EliteBook or Lenovo ThinkPad laptop computer, which provide professional-grade stability, reliability, and power. The platform is then enriched with a collection of essential high-quality hardware and software products that ensure that it will run smoothly and productively for many years. Each package arrives at the customer's office fully configured, optimized, and personalized for the specific user.
According to jackrabbit.com technicians, all hardware items in the packages are business-grade quality, and each piece of included housekeeping and productivity software serves a very real purpose. The staff carefully integrates and tests everything and provides any necessary post-delivery configuration support via toll-free phone and remote access. All hardware and software products in the packages are supported and warrantied by their respective manufacturers. In addition to HP and Lenovo, package items come from such well-known companies as Adobe, APC, Microsoft®, Kensington, Oracle®, Seagate, Sunbelt Software, Symantec™, and Targus.
"Our laptop packages help to quell the anxiety felt by small business owners and managers who don't know what technology to buy or who will do the preparation work," says Stephen Lesberg, President and Senior Consultant at Jackrabbit Microware, , the publisher of jackrabbit.com. "We leverage our 28 years of experience preparing business computers to create a very smooth out-of-the-box experience," continued Mr. Lesberg. "These are truly complete, ready-to-use business laptop packages. Upon receipt, the user makes some simple connections, powers-up the laptop, loads any necessary industry-specific software, and begins to work."
The three featured laptop computer packages address a varied range of business needs: The HP EliteBook 2530p is an ultraportable laptop PC that offers 7+ hours of battery life and weighs just over three pounds. The midsize Lenovo ThinkPad T410 is powered by a fast Intel Core i5 processor and also sports a multi-touch touchpad. The HP EliteBook 8540p is a full-size laptop that can also be a desktop replacement; it offers very high-end graphics capabilities, USB 3.0 ports, and a large, 15.6'' high-resolution widescreen LCD screen.
These new business laptop packages, like all of the ready-to-use packages available at jackrabbit.com, present a new, all-inclusive, cost-effective way to purchase small business technology solutions by significantly reducing the need for on-site technical expertise. They are supported by toll-free phone and remote support, and are subject to a liberal return policy.
To see these laptop computer packages, visit http://shop.jackrabbit.com/laptop-for-business.aspx.
About jackrabbit.com
Jackrabbit.com is a monthly on-line publication and sales website from Jackrabbit Microware, a San Diego, California-based technology consulting and integration company founded in 1982. This website focuses on the essential technology needs of office-based and home-based businesses with 1 to 50 employees nationwide. It provides knowledge and insight to help them make informed buying decisions, and it offers them an array of complete, high quality, fully configured, optimized, personalized, ready-to-use technology packages.
For more information, please visit http://jackrabbit.com or call toll free at 1.800.444.9923.
###