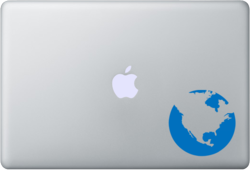 "Macdecals.com strongly believes in taking care of the planet and its valuable resources." Says Pamela Loconto - Founder of MacDecals.com
Fort Lauderdale, FL (PRWEB) March 29, 2013
Starting April 1st (No Joke), MacDecals.com will send a free Earth Day Globe Laptop sticker with every order to commemorate Earth Day.
"Macdecals.com strongly believes in taking care of the planet and its valuable resources." Says Pamela Loconto - Founder of MacDecals.com. "The decal giveaway will help create awareness of the issues that affect earth and hopefully inspire people to take care of the planet "
To receive a free decal, go to http://www.macdecals.com/, purchase a MacBook Decal, skin or Laptop Stickers and automatically receive the free sticker in your order, it's that simple. The Decal can be used on car windows, walls, mirrors, laptops, and most smooth and dry surfaces to show support for the planet.
Promotion will only last until April 30th 
About MacDecals.com
Founded in 2011, MacDecals.com offers more than 200 original decals and gives customers the ability to create their own. MacDecals.com products are made with a high quality vinyl material that not only protects devices from scratches and blemishes, but also gives them a unique, cleaner look and feel. Decals and skins are available in multiple sizes for multiple devices, and have a range of designs aimed at various individuals such as: gamers, movie aficionados, music lovers, businesses, and many more.
A proud, Made in the USA Business, Macdecals.com products are shipped nationally and extend across the globe. In addition to their constant growing selection of decal designs, stickers and skins they have a team standing by to make custom designs requested by customers.
For more information on the product or to order online, visit
http://www.macdecals.com