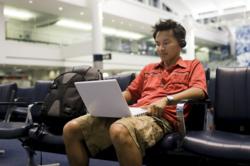 Las Vegas, NV (PRWEB) March 26, 2013
Laptopbackpacksource.com has become a leading source of laptop transportation solutions by expanding their already wide range of backpacks and messenger bags to include even more different types of bags to accommodate any lifestyle. With all the additional options for transporting a laptop now available at Laptopbackpacksource.com it is the one stop source for keeping a portable computer safe and secure anywhere.
Customers are the highest priority at Laptopbackpacksource.com. Providing a product selection to accommodate such a wide variety of lifestyles is just the first way this store makes the shopping experience a pleasure. This store has built a reputation on taking care of their customers throughout the entire process of finding a laptop transportation solution.
In addition to the wide product selection everything is also sorted into various categories making it easy to view all the different products that accommodate a specific need. Categories include brand, laptop size, price, color, entry style, sale items and even airport friendly bags that make TSA check points at the airport quick and simple. At Laptopbackpacksource.com the different categories provide the customer with a list of products that satisfies the primary search criteria in only a couple clicks.
New products are always being added to ensure the latest styles and features are always available. Striving to make for the best shopping experience possible is the Laptopbackpacksource.com support team, they are always available to answer any questions and help find a laptop transportation solution for any lifestyle.
About Laptopbackpacksource.com:
Laptopbackpacksource was founded in 2007 and is located in Las Vegas, NV. Opening a retail store specifically for laptop backpacks and carrying cases came from a realization that our founder, Matthew C. Warren, had during his business travels. Originally Matthew brought his laptop along with him in a rolling suitcase, but after arriving at his destination the suitcase was just too large and awkward to carry around locally. Having a separate laptop backpack made it simple to bring his laptop anywhere, both as a carry-on bag for the airplane or during local travels, and still have the right amount of space for the rest of his belongings. As a result of this Laptopbackpacksource was started with one goal, to provide the largest selection of laptop transportation solutions in one place. For more information, call the toll free sales telephone number at 1-877-982-9998 or visit http://www.laptopbackpacksource.com.