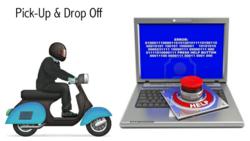 Laptop Repair London launched the fastest Express Laptop Collection Service in London - Anywhere in London in 90 Minutes
London, City of London, Essex, Kent, Surrey, (PRWEB UK) 30 March 2013
Laptop Repair London is delighted to offer a new high speed collection service of laptops for repair in London. London's premier laptop repair company is offering free collection and delivery in the workplace, office or home.
Ryan Newman, Managing Director of Laptop Repair London said "We all live extremely busy lives and when our laptops break it can be stressful to find a reputable repairer, not to mention the inconvenience of dropping it off and picking it up. Here at Laptop Repair London, our couriers will collect your laptops within 90 minutes of your call. Plus as it's our driver you don't have to even package your broken laptop. We provide free collections and deliver from Central London post codes."
He continued "The benefits of our service are self-explanatory. We provide a professional service that is fully insured, with a highly experienced team of technicians and we are members of all the major bodies representing the computer repair industry. "
As well as the collection service, Laptop Repair London has workshops located in Central London close to four major stations in the city, Barbican, Farringdon, Angel and Old Street, which provide a walk in service where customers can drop their laptops in for repair.
Laptops are very complicated pieces of machinery, and not just anybody can open up a laptop and understand what is wrong. Computer technicians, much like doctors and surgeons, are specialists who know what to look for and can diagnose and repair the most complicated problems. Laptop Repair London engineers are among the most trained and professional technicians in the city.
For further information please contact 020 3397 4232 or email info@laptoprepairworkshop.co.uk or visit us at the following web address: http://www.laptoprepairworkshop.co.uk
ABOUT US
Laptop Repair London
Telephone 020 3397 4232
Website: http://www.laptoprepairworkshop.co.uk
Email: info(at)laptoprepairworkshop(dot)co(dot)uk
Address: 149 Goswell Road, London EC1V 7ET, UK
Laptop Repair London has been in business almost 9 years, servicing customer all across London. We deliver quality service at value for vaklue for money prices. We don't claim to be cheapest, with us you know exactly what you are paying for from the ooutset and everything is dome in writing.