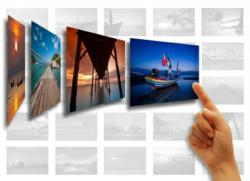 The Madison Printing Company has had its work featured on ABC and Fox networks.
Madison, Wisconsin (PRWEB) December 13, 2012
The printing industry has benefited from the advancements in digital technology for color matching and printing on large surfaces. One company, http://www.madisonprintingcompany.com, is now offering large vinyl banners and display printing for discounted pricing online.
All prices for these services are now reduced for businesses, schools, real estate agents and others that require large format printing.
Banners have been used for more than a century to get public attention when marketing a product or service. The traditional screen printing method to produce banners was limited to only four colors in a basic design.
New computer technologies now exist to provide high resolution logos and images on large banners for public or private use.
The Madison Printing Company has had its work featured on ABC and Fox networks as well as in Extreme Makeover: Home Edition. The design experts that work for this company offer services at affordable prices that would normally be higher through competing national chains.
Internet sellers that also sell products offline usually rely on printed advertisements to help generate business. The basic home or office printers that are in use by many are most often limited to a printing size of 11x17 prints. Business owners or entrepreneurs that require a larger size for trade shows, grand openings or other public events could be disadvantaged by the limitations of smaller printers.
The MadisonPrintingCompany.com website now offers an easy way for men and women to submit requests for larger printing jobs. The new price reduction for services has helped this company to innovate its online capabilities. Phone orders can be submitted using a toll free or local phone number.
These expedited services are now put in place to help those that require larger printed banners and signs to meet deadlines and commitments. The photo quality banners, print, designs and artwork that is now offered provides those that require printing with a range of possibilities for advertising or promotional products.
About Madison Printing Company
The Madison Printing Company launched its website in 2009 although nearly two decades of printing experience is what this company offers to Madison, WI residents and others with the help of the Internet. By investing into the latest printing technologies, sharper colors and more saturation is offered in the products that are produced. The Madison Printing Company prints business cards, trade show signs, large format banners, posters and other forms of printing for affordable prices. New price reductions and company expansions have helped this company to build its image offline and online.