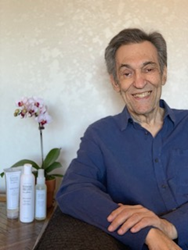 "Healthy, beautiful hair reflects a life balance between body, mind and spirit, and I've now partnered with Wisdome Organics to create and distribute my holistic hair care system."
SEDONA, Ariz. (PRWEB) January 07, 2019
Larry Geller is known worldwide as one of the first men's hairstyling superstars and the man who cared for Elvis Presley's iconic hairstyle. Geller's insider take on pop culture and influencer looks are combined in a signature beauty line of haircare products including shampoos, conditioners and styling products, newly launched under the Wisdome Organics brand at https://wisdomeorganics.com/shop
About Wisdome Organics:
Wisdome Organics' line of haircare products began with Larry Geller's personal philosophy and approach to a happy, productive life and his years of experience in haircare and health. He says, "Healthy, beautiful hair reflects a life balance between body, mind and spirit, and I've now partnered with Wisdome Organics to create and distribute my holistic hair care system." Larry goes on to say, "Because wholesome nutrition is so essential to the body's creation of healthy hair, Wisdome Organics is proud to be the first haircare company to offer Hair Testing Mineral Analysis for health, by one of the top US laboratories, Trace Elements."
About Larry Geller:
Larry Geller is an expert on celebrity style and beauty who, along with the famed Jay Sebring, in 1959 opened America's first men's hairstyling salon. They quickly attracted the greatest names in the entertainment world, including Frank Sinatra, Paul Newman, Steve McQueen, Peter Sellers, Marlon Brando, Glen Campbell, Tony Bennett, Rock Hudson, Roy Orbison, Kirk Douglas, and many other celebrities, from Hollywood's most prominent directors to major film/TV producers and agents. Larry and Jay were pioneers who introduced their natural, holistic way to achieve healthy, beautiful hair with organic, natural shampoos and personalized styling. In 1964, Larry left to become personal hairstylist and spiritual mentor to Elvis Presley, a relationship that lasted until Elvis' passing in 1977.
Wisdome Organics is respectful of the earth and all its creatures, using no harsh chemicals and never testing on animals, connecting with Larry's philosophy and the foundation of Wisdome Organics.
What Actual Users Say About Envision/Embody Shampoo and Conditioner:
"I've been using your products for less than two weeks and I'm in love! Thank you, Wisdome Organics." Angi K… "I just ordered my second bottles of Envision Shampoo and Conditioner and I can honestly say the best shampoo that I have ever found…I will be using these forever! Aline N… "Just started on my first bottle of Embody Shampoo this week and I like the way it smells and the way my hair looks and feels after drying it. Looking forward to trying out more of Larry's products." Mark S... "absolutely these products rock!" Betts T...
Larry Geller's free e-book, available at https://wisdomeorganics.com/holistic-hair-care/#ebook explores nutrition, exercise, meditation and enlightened haircare for ageless beauty and wellbeing.
Follow Wisdome Organics at https://www.facebook.com/WisdomeOrganics/.
Follow Larry Geller at https://www.facebook.com/LarryGellerOfficialFanPage/.