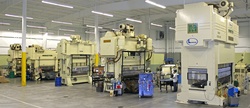 Whenever you can get the right people together with the right tools, you are bound to have success
ATTLEBORO, Mass. (PRWEB) November 28, 2007
Larson recently purchased a Minster E2H 450 Hevi Stamper press. The new press has a 450-ton capacity with a high-energy drive and a 120-inch bed, giving Larson Tool the power to quickly manufacture larger stampings. This ultra-heavy duty press significantly increases the stroke rate to optimize production, resulting in increased efficiency and savings for Larson customers.
The new Hevi Stamper is equipped with Minster's Draw-Link system, which slows the press ram on the down stroke enabling optimum punch contact velocity while still running progressive deep draw tooling at higher production rates. The press also serves as a back up to the existing line of Minster presses with capacities of 180 to 300 tons.
"The purchase of our Minster press is an exciting one for us, allowing us more production versatility and enabling us to meet our customers' needs for larger, more complex stampings." said Chuck Cederberg, President of Larson Tool.
To house this new equipment, Larson constructed a new 14,000 square foot pressroom. This allowed the company to consolidate their five Minster presses, creating a more efficient workflow and production process. The new area was also designed to enhance implementation of Larson's Lean Manufacturing initiative, an effort to reduce waste in time and resources.
"Whenever you can get the right people together with the right tools, you are bound to have success," said Cederberg. "By eliminating extra steps and putting these operations in one state-of-the-art location, we are a faster and more nimble operation and we're sure our customers will see the difference."
About Larson Tool and Stamping: For the past 87 years, Larson Tool and Stamping has been a valued supplier of precision metal stampings and assemblies to hundreds of companies in the United States. By offering a wide range of capabilities -- including forming, stamping, deep drawing, assembly, brazing, painting, coining, and more -- Larson has developed the ability to provide high quality, cost-effective solutions. For more information contact Larson Tool and Stamping at Phone: (508) 222-0897 or visit http://www.larsontool.com.