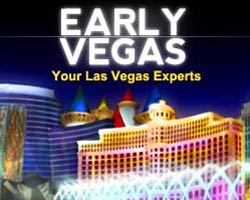 New Vegas nightlife venues, restaurants, and Las Vegas shows are opening up throughout the spring and summer months, and there are some new spots that no Las Vegas traveler should miss.
(PRWEB) March 02, 2013
While some Las Vegas classics never get old, newer and bigger is sometimes better, and there's nowhere they do bigger better than Las Vegas. Whether a Vegas newbie or a Las Vegas veteran, there are certain restaurants, nightclubs, and shows a Las Vegas visitor just can't miss. But as spring tends to bring new life, Las Vegas spring 2013 is no different. New Vegas nightlife venues, restaurants, and Las Vegas shows are opening up throughout the spring and summer months, and there are some new spots that no Las Vegas traveler should miss. EarlyVegas has scoured the web to find the most anticipated Las Vegas openings for spring and summer this year. Here are the top picks from EarlyVegas for the best Las Vegas openings to look forward to in Spring and summer of 2013:
Top Las Vegas nightlife openings to look forward to:
1. Hakkasan at MGM grand - It's been awhile since the MGM Grand Las Vegas nightlife has been anything worth raving about, but with the opening of Hakkasan Restaurant and Nightclub in 2013, that lackluster reputation for the MGM Grand nightlife might just do a 180. Hakkasan is already set up in New York City, Miami, London, Mumbai and Abu Dhabi, and there's no doubt that the luxurious dining and spectacular nightlife combination from Hakkasan will mix well in Las Vegas. Hakkasan will cover over 5 levels and the Vegas nightclub and restaurant will take up about 75,000 square feet of the MGM Grand.
2. Krave Massive - Those who have been to KRaVe at the Rio or Drink & Drag, both of which are gay venues from The Krave Company for Las Vegas gay nightlife, are definitely looking forward to the grand opening of KRaVE Massive in Spring 2013. Krave Massive will be the world's largest gay club, and as one of the best cities for gay nightlife, it's fitting that the the biggest gay club will be in Las Vegas. .
New Las Vegas restaurants to look Forward to:
1. Five50 at Aria - The Las Vegas restaurant opening for the pizza bar Five50 at the Aria is scheduled for 2013 summer in Las Vegas. This casual Vegas pizza bar will be led by Executive Chef Shawn Mcclain and will be located in the casino level of the Aria Las Vegas hotel in front of the race and sports book. It was given its name for 550 degrees, the perfect temperature for cooking pizza, and Vegas foodies can't wait to try a perfect slice from this new restaurant.
2. Heritage Steak at The Mirage - This Las Vegas summer opening is an easy top pick for the most looked forward to restaurant opening for foodies who visit Las Vegas. Heritage Steak at The Mirage will be the third Vegas opening for Tom Colicchio, a head judge from Top Chef. Those who visit the Mirage can currently see the sign reading "Tom Colicchio's Heritage Steak arrives this summer, bringing with it the sights and scents of grilling with fire" on the outside of what will be the new restaurant location upon its grand opening in Vegas.
New Las Vegas shows to look Forward to:
1. Michael Jackson ONE by Cirque du Soleil at the Mandalay Bay: "Michael Jackson One" at Mandalay Bay by Cirque Du Soleil will kick off it's exclusive preview show on May 23rd and will have its official premiere on June 29th. General tickets will go on sale March 7th, and the founder of Cirque Du Soleil, Guy Laliberte, will be helping with the show in March and April. During last week's exclusive sale to Michael Jackson and MGM Resorts club members, over $500,000 in tickets were already sold, and there is no doubt that this show will be a hit for Cirque Du Soleil in Las Vegas.
2. Boyz II Men at the Mirage - Blast from the past! Boyz II Men, the top selling R&B Group of all time in the United States with over 60 million albums sold worldwide, will be performing in Las Vegas at the Mirage for several shows from March 1st to December 29th, 2013. Starting this spring in Las Vegas, this '90s R&B group will take Vegas by storm at the Mirage for their well deserved spot in the Entertainment Capital of the World.
3. Def Leppard Residency at the Las Vegas Hard Rock Hotel & Casino- Starting on March 22nd, Def Leppard will be taking the stage at the Hard Rock Hotel & Casino Las Vegas. This new Las Vegas residency will run from March 22nd to April 12th, 2013 for some spring Vegas shows that no rock fan will want to miss at The Joint in the Hard Rock Hotel & Casino.
This article was written by Ariel Abbott, Editor of EarlyVegas.com
About EarlyVegas.com:
EarlyVegas.com is an authority on how to save money and get the best value when planning travel to Las Vegas. EarlyVegas.com searches the web for the best packages, specials, promotions, deals, and promo code offers that help travelers save and get the most value when booking hotel rooms, tours, and shows in Las Vegas.