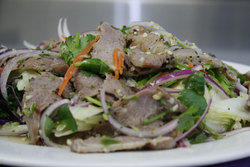 Everything is different between Thai food and Chinese food
Las Vegas, NV (Vocus) July 15, 2010
When Americans visit Kung Fu Plaza, a Las Vegas Restaurants that has been serving the oldest and most authentic Chinese food and Thai food in the valley since 1974, it is not uncommon for them to browse some 800 dishes and ask if there is a difference between Thai food and Chinese food. The question always makes Allen Wong, general manger of Kung Fu Plaza, smile.
"Everything is different between Thai food and Chinese food," Wong says. "Many Thai dishes cannot even be cooked properly at home because they require temperatures of 400 degrees for the ingredients, vegetables, and meats to bond properly, which most conventional stovetop burners cannot reach. I know, I've tried myself."
Wong should know. His parents immigrated to the United States from Thailand in the 1960s, opening one of the first Thai restaurants in the United States. The concept was so different then that his parents named the restaurant Kung Fu to help distinguish it from Chinese restaurants.
"Most people assume the difference is the spice, but that is not really true," says Wong. "Thai cooking was influenced by India, China, Persia, and other countries across Southeast Asia. That is the charm about our food; it blends all of these influences to make something very new and unique."
Like American cuisine, Thai cuisine is also divided into regional cooking, with the central region consisting of the most dishes familiar to Americans. Rice, fish, vegetables with garlic, black pepper, and fish sauce-nam pla are common. The introduction of fiery-hot chili peppers was not introduced until the 1500s, along with coriander, lime, and tomato imported from the West. All of these ingredients were used to create increasingly complex blends.
The most common staple is sweet jasmine rice, which is indigenous to Thailand. Most authentic Thai meals consist of rice khao with complementary dishes served concurrently. "Gang pad" and "Gang juud" refer to curried dishes and soups whereas "Yum" refers to Thai style salads.
Alongside traditional dishes such as Tom-Yum Koong, Pad Thai, Pa-nang and Laarb, Kung Food Plaza serves an abundance of Chinese dishes. Originally, they were incorporated at the request of customers looking for popular Chinese dishes in the 1970s. Since, Kung Fu Plaza has added dozens of lesser known recipes.
"We use curries from several regions to create unique dishes, including Pa-nang and a spicy Thai Green curry," says Wong. "We also serve Laarb, which is a rural classic, and have created our own Smoked Pork Salad.
Kung Fu Plaza maintains a menu that includes almost 800 dishes, predominantly from China and Thailand. The menu selection represents one of the most expansive Chinese and Thai menus in the region. To review a complete menu, visit http://www.kungfuplaza.com/home.html.
Founded in 1974, Kung Fu Plaza is the oldest and most authentic Las Vegas Restaurants serving Chinese food and Thai food. It is open daily from 11 a.m. to 11 p.m. The average entree is under $10 and most patrons order family style. For more information about Kung Fu Plaza Restaurant visit http://www.adventuresinkungfu.com, or call 702-247-4120.
###