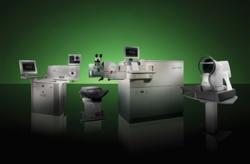 Laser vision correction has now advanced to the point where it is safer and better than ever before.
San Francisco, CA (Vocus/PRWEB) January 27, 2011
The newest, most technologically advanced laser eye surgery method, iLasik, is available now in the Bay Area at LaserVue Eye Center. iLasik combines three technological advances for a safer, more effective, more accurate corrective eye surgery than ever before.
First, a sophisticated Wavefront aberrometer scans the eye and creates a 3-D map of the entire corneal area. Second, the IntraLase Femtosecond laser lifts the corneal flap, eliminating the risky use of a blade. Third, the cornea is reshaped using a Star S4 IR Excimer Laser, which tracks natural pupil movements for improved safety and precision. The iLasik system has made significant improvements in safety, accuracy, and quality results over other methods of laser eye surgery.
"Laser vision correction has now advanced to the point where it is safer and better than ever before," says Dr. Jay Bansal, MD, a Refractive Surgery specialist at LaserVue, who has performed over 20,000 laser eye surgery procedures. "The vast majority of people see 20/20 or better after receiving their iLasik procedure."
The Wavefront map creates a custom "fingerprint" of every individual's eyes, so the treatment is completely individualized. It increases the likelihood that the patient will have 20/20 or better vision. It also reduces the chance of any higher- and lower-order visual aberration side effects of standard laser surgery.
With traditional laser surgery, an ophthalmologist uses a metal blade to create the corneal flap prior to the actual laser treatment. The IntraLase Femtosecond laser is a safer and more accurate way to create the corneal flap, reducing the greatest risk in the LASIK procedure. According to USA Eyes, Council for Refractive Surgery Quality Assurance (CRSQA): "Advantages include more precise positioning of the flap, more accurate thickness of the flap, more even thickness of the flap throughout, and a lower probability of intraoperative complications."
One of the hardest parts of the laser eye surgery has always been keeping the eye still during the procedure. With the Star S4 IR Excimer Laser used at LaserVue, patients no longer have to worry about this. The Star S4 uses Iris Registration (IR) to track eye movements, eliminating the need for pupil dilation and patients struggling not to move.
These three advanced components of the iLASIK system combine for the safest, most effective laser eye treatment available. Clinical studies found 98% of patients with mild to moderate myopia had 20/20 vision or better one year after treatment. Four times as many patients with hyperopia who underwent the procedure were "very satisfied" with their vision as were patients with contacts or glasses. iLASIK is now approved by the US Military for fighter pilots and NASA for astronauts.
Alison O., a LaserVue patient, raved, "The surgery was brief, painless, and I am happy to report my vision is now 20/20. I am grateful to Dr. Bansal and his staff, and would recommend LaserVue Eye Center to anyone interested in high quality LASIK eye surgery."
For more information about iLasik eye surgery or any of LaserVue's products and services, call them at (707) 284-0331 or visit their website at http://www.laservue.com.
About Dr. Jay Bansal
Dr. Jay Bansal is a nationally recognized refractive surgeon who specializes in corrective eye surgery / laser eye surgery in the San Francisco Bay Area. LaserVue performs iLasik in San Francisco, San Jose / South Bay, North Bay, and East Bay areas with offices located at 3540 Mendocino Ave, Suite 200 in Santa Rosa; 1700 California St. Suite 480 in San Francisco; 1174 Castro St., Suite 112 in Mountain View; and 108 La Casa Via, Suite 104 in Walnut Creek.
###