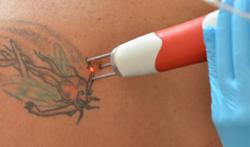 The results clients are experiencing with this new laser are astounding
New York, NY (PRWEB) March 28, 2013
Recent market studies show significant growth when it comes to the demand for tattoo removal treatments. Blame it on the declining job market, passing trend or simply the fact that tattoos are in many cases done on a whim and end up being a regrettable decision. To meet the increasing demand medical spas like New York's Sensitive Touch Medical Spa are investing in cutting edge laser tattoo removal technology like the Astanza Trinity laser and growing a business of very happy and grateful clients.
Various tattoo removal treatments have been available for many years. Attempts at getting rid of unwanted ink with dermabrasion, trichloroacetic acid, salabrasion, cryosurgery and excision, IPL treatments or continuous-wave lasers have ended up at best with keloid scarring or pigmentation and in many cases it simply did not work at all. As the demand for safe and effective tattoo removal methods grew new methods and technologies have been developed in order to produce more effective results that are safer and require less treatment time.
Over the years lasers have become the number one method for tattoo removal treatments. Sabina Kozak, Spa Director at Sensitive Touch Medical Spa in New York, states that "unfortunately continuous-wave lasers and IPL treatments can't effectively remove all tattoo colors. It was not until q-switch lasers were introduced that you were able to treat clients with sufficient amount of laser energy without causing permanent damage to the skin." Ms. Kozak explains that "this is one of the reasons the team behind Sensitive Touch Medical Spa took their time to research and find the most innovative, effective and safe laser that is specifically created to remove all tattoo colors on all skin types with minimal side effects". They found their laser of choice in the Astanza Trinity Laser. Astanza Trinity is a q-swich laser that combines three different laser wavelengths (including Nd: YAG and Ruby) providing the capability to remove all tattoo colors (except white) without causing damage to the surrounding skin. The Astanza Trinity laser is the only laser on the market that can claim this level of tattoo removal efficiency.
Sabina Kozak states: "The results clients are experiencing with this new laser are astounding. All of a sudden laser tattoo removal has become one of the most popular treatments at our medical spa with a growing number of very happy clients and referrals. The positive reviews are also due to the fact that our clients are extensively educated about the laser tattoo removal treatment when they come in for their consultation. The right expectations are set and treatment course explained in detail." When clients come in regretting their tattoos, it is extremely important to offer them a treatment that will not leave them with more regrets. When I meet with clients and learn about their lives and hopes for the future, I feel confident the laser technology available at our Medical Spa will deliver the desired results and give them the fresh start they are all looking for.
The investment in advanced laser technologies for tattoo removal providers is an investment in countless positive reviews and referrals facilitating a brighter future for both the clients and the business.