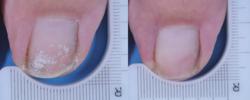 We are Winning the War on Toenail Fungus
(PRWEB) March 25, 2013
Approximately 14% of Americans suffer from onychomycosis or what is commonly known as toenail fungal infection. As reported by **PDR Health in their website, these numbers increase in age, as high as 24% to 40% get the infection with people who are over 60 years old. While foot and nail fungus may seem innocuous, its repercussions in one's life can be enormous; as it is not only excruciating and can interfere with daily activities, nail fungus can lead to serious issues in one's social life as well. Fortunately, one Asheville Foot Doctor is rising to the occasion by providing what many patients consider a miracle treatment.
Founded and headed by renowned podiatric physician Dr. Daniel L. Waldman, D.P.M. F.A.C.F.A.S., Blue Ridge Foot Center is currently celebrating four successful years of using the PinPointe FootLaser, one of the most advanced and probably the safest and most effective way to treat toenail fungus in the world today.
Dr. Waldman has been using the PinPointe FootLaser to treat his patients suffering from the disorder since March of 2009 and both he and his patients have experienced nothing but outstanding results. With more than 3,800 satisfied patients who have undergone the treatment, reports have shown that PinPointe FootLaser together with Dr. Waldman's medical expertise can provide excellent and long lasting outcomes.
An ***article from ABC News also confirms this machine's high success rate:
"The procedure takes less than a half hour and, while results aren't immediate, the toenail will grow out normally in nine to 12 months, in most cases. PathoLase said its laser is 88 percent effective, which it claims is better than anything else on the market."
"The Food and Drug Administration cleared the use of PathoLase Inc.'s PinPointe FootLaser system, which has been available in the United States since September 2008. Evans (Gary Evans, a New York City Podiatrist) has been using it for a few months and says it's exciting because it's painless and side-effect free. "- ABCnews.com article 'Promising New Treatment for Fungus-Free Feet'
In line with their four year anniversary of using this laser treatment, they have also upgraded their website to receive appointment requests from residents in Asheville NC who would like to try this innovative approach in treating toenail fungus. Their website also now features a "patient education" section where patients can search an extensive library of information that can empower them with the knowledge they need.
Simple yet very helpful additional website features designed to help their patients as they celebrate four years of helping people afflicted with toenail fungus. Those who are looking for a reliable Foot Doctor in Asheville NC, visit their website today at http://ww.blueridgefoot.com/ or contact their representative for further details.
About Blue Ridge Foot Center
They are a leading clinic on podiatric procedures and services in the Asheville, NC area owned and headed by Dr. Daniel Waldman, a renowned Asheville Podiatrist. They specialize in the treatment of toenail fungus applying an advanced and effective approach using the PinPointe FootLaser.
Contact:
Dr. Daniel Waldman, DPM, FACFAS
Associate, American Society for Laser Medicine and Surgery
Member, Council for Nail Disorders
Board Certified Foot Surgeon
Diplomate, American Board Podiatric Surgeons
Fellow, American College of Foot and Ankle Surgeons
Brfc(at)blueridgefoot(dot)com
(828) 254-5371
SOURCES:
** http://www.pdrhealth.com/diseases/nail-fungus
*** http://abcnews.go.com/Health/OnCall/story?id=7113863&page=1