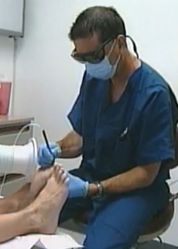 Battling the War Against Toenail Fungus
Baltimore, MD (PRWEB) March 20, 2013
Dr. Mark E. Spier, a Baltimore Maryland Podiatrist and a leading forefoot and reconstructive surgeon, will be celebrating his four year anniversary using the PinPointe FootLaser to treat nail fungus. Certified by the American Board of Podiatric Surgery in foot and ankle surgery, Dr. Spier leads the treatment of toenail fungus in the Baltimore, Maryland area. Dr. Spier was the first provider in Maryland to be able to offer the PinPointe Footlaser to treat toenail fungus while continuing his dedication to innovative treatments.
Toenail fungus, also known as Onychomycosis, affects approximately 10 to 14 percent of the United States population according to Physician's Desk Reference. PDR also states that people over the age of 60 that suffer from Onychomycosis is 25 to 40 percent. There are many possible causes of Onychomycosis including, but not limited to, athlete's foot,tight footwear, use of community pools/locker rooms and physical activity without proper foot care afterwards.
According to Wikipedia, "The most common symptom of a fungal nail infection is the nail becoming thickened and discoloured: white, black, yellow or green. As the infection progresses the nail can become brittle, with pieces breaking off or coming away from the toe or finger completely. If left untreated, the skin can become inflamed and painful underneath and around the nail. There may also be white or yellow patches on the nailbed or scaly skin next to the nail. There is usually no pain or other bodily symptoms, unless the disease is severe."
Dr. Spier has successfully treated over two thousand patients in his Baltimore Maryland offices using the PinPointe Footlaser since April 2009. Take a look at this video about Laser Treatment of Toenail Fungus in Baltimore MD by Dr Spier.
"The Procedure was painless and didn't take long at all…Dr. Spier and his staff are very friendly and professional and give their patients the very best of care! I couldn't be happier with my new toenails."— Cheryl A., a patient of Dr. Spier that received the PinPointe Footlaser for treatment of her toenails.
The laser treatment takes approximately 30 minutes and involves very little discomfort for the patient. To schedule an appointment please use the contact information provided below.
About Dr. Mark E. Spier:
Receiving his B.S. in Microbiology from the University of Maryland at College Park then Doctor of Podiatric Medicine degree from the Pennsylvania College of Podiatric Medicine (now known as Temple University School of Podiatric Medicine) has helped Dr. Spier gain the insight to treat foot ailments effectively. Before starting his private practice in 1985 in the Baltimore Metropolitan area, Dr. Spier completed his residency in foot surgery at Lutheran Hospital of Maryland. Dr Spier is a member of the Council for Nail Disorders. Dr Spier is an avid runner, having completed multiple full as well as half marathons. He is much less successful as a golfer. Dr Spier is married with two children.
Contact Dr. Spier:
Phone: (410) 833-0040
11710 Reisterstown Rd Suite 208
Reisterstown, MD 21136