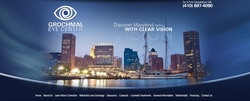 Catonsville, MD (Vocus) October 2, 2010
Baltimore laser eye surgery practice, Grochmal Eye Center, Dr. Jay C. Grochmal recently launched an innovative new website providing detailed descriptions of all laser vision correction procedures he performs, as well as his treatments for eye diseases. Dr. Grochmal says he hopes the new website will provide his patients with an online resource as they consider the range of eye surgery procedures he offers, such as the refractive lens exchange procedure and LASIK in Baltimore.
While Dr. Grochmal offers the latest advancements in laser vision technology, he also specializes in treating diseases of the eye, as well as cosmetic procedures such as eyelid surgery in Baltimore. He says his practice strives to provide state-of-the-art eye care with a personal touch, adding that the comprehensive network of educational information available through the website will provide an in-depth look into his practice and hopefully enhance visitors' patients' experience with the Grochmal Eye Center.
In collaboration with Rosemont Media™, a medical website design firm in San Diego, CA, Dr. Grochmal has incorporated an array of multimedia options to allow every visitor to access his practice's social media sites on Facebook and Twitter. With the new website, Dr. Grochmal says he hopes to create an interactive online community to provide his patients with the information necessary to make the appropriate decision when considering laser vision correction, or treatment for a specific eye disease. This new virtual representation of Dr. Grochmal's practice also provides patient testimonials, explanations of common eye conditions, and staff and doctor biographies.
Dr. Grochmal has been serving the Baltimore and Washington, DC metro areas for over 30 years while specializing in LASIK, cataract surgery, and glaucoma procedures, and says he focuses on providing his patients with the best option for vision care, with careful attention paid to each patient's lifestyle needs. With the new website, Dr. Grochmal says his patients will be able to better understand those options for vision care before the initial consultation, allowing him to concentrate further on supporting their individual needs.
About Dr. Grochmal
Dr. Jay C. Grochmal earned his medical degree from the University of Maryland, followed by a rotating internship at the U. S. Public Health Hospital in Baltimore, MD. He completed his residency at the Greater Baltimore Medical Center's Department of Ophthalmology, where he achieved the rank of Chief Resident. Dr. Grochmal also participates in a number of medical missionary trips to provide vision care for those in need in Third World countries.
Dr. Grochmal and the Grochmal Eye Center are located at Catonsville Professional Center at 405 Frederick Rd., Suite 102 in Baltimore, MD 21228, and can be reached at (410) 744-5310 or http://www.grochmaleye.com/
###