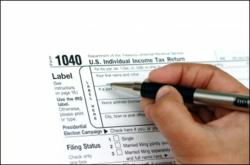 Taxpayers should enjoy these fleeting tax advantages now.
EL SEGUNDO, CA (PRWEB) March 12, 2013
Taxpayers might find filing this tax season to be a tad 'bittersweet,' as many tax deductions are set to expire this year on Monday, April 15th, 2013. In fact, according to a 2013 report from the Tax Policy Center, Americans will be paying an estimated $1,257 more on taxes next year. After tax law changes made following fiscal cliff negotiations between President Obama and congress last year, GoBankingRates.com finds that this year will be the last time many tax deductions can ever be claimed.
To help taxpayers get the most money back this year, GoBankingRates analyzed changes to current tax laws. The site's newest report outlines five expiring tax deductions that taxpayers can claim before April 15th to receive an average of $1,257 back.
"Taxpayers should enjoy these fleeting tax advantages now," advises Jennifer Calonia, editor for GoBankingRates. "There are several expiring tax write-offs and deductions this season that Americans should make sure to claim and get the biggest refund possible."
Find out the five biggest tax deductions here.
For questions about this report or to schedule an interview with a GoBankingRates editor, please use the contact information below.
About GoBankingRates
GoBankingRates.com is a national website dedicated to connecting readers with the best interest rates on financial services nationwide, as well as informative personal finance content, news and tools. GoBankingRates collects interest rate information from more than 4,000 U.S. banks and credit unions, making it the only online rates aggregator with the ability to provide the most comprehensive and authentic local interest rate information.
Contact:
Jaime Catmull, Director of Public Relations
GoBankingRates.com
JaimeC(at)GoBankingRates(dot)com
310.297.9233 x261
###
Source: Tax Policy Center, Table T12-0428, January 13, 2013.