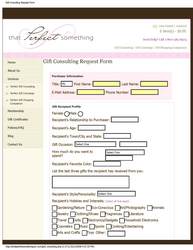 Unlike other companies and websites, we go the extra yard to find Father's Day gifts that shoppers wouldn't normally think of, and as a bonus, we offer tips on how to make the presentation of the gift extra special
New York, New York (PRWEB) June 6, 2008
Don't know what to get Dad with one week left until Father's Day? A new Gift Consulting service from That Perfect Something solves your shopping dilemma by finding Father's Day gifts customized to your Father's interests and personality in half the time.
"Shoppers tend to wait until the last minute to purchase Father's Day gifts because it's more difficult to find creative gift ideas for men. And as such, resort to purchasing uninspired gifts like clothing, electronics, and cologne," says President and Founder, Lois Jeffers.
That Perfect Something does the legwork and finds unique gift ideas for you in less than 48 hours. To get started, the client creates a gift recipient profile on-line by answering questions about the recipient's interests and personality. The client also provides budget parameters and shares the desired message the gift should convey. Upon completing the gift recipient profile, the client submits a Gift Consulting request form on-line.
A Gift Consultant reviews the Gift Consulting request and provides the client with a Gift Ideas Portfolio containing a selection of customized gift ideas, purchase and price information, and available reviews.
"Unlike other companies and websites, we go the extra yard to find Father's Day gifts that shoppers wouldn't normally think of, and as a bonus, we offer tips on how to make the presentation of the gift extra special," says Ms. Jeffers.
Shoppers can now receive a Gift Ideas Portfolio for the special price of $16.99, a 15% discount off the regular price.
That Perfect Something is a personal services company based in New York City. The company offers a national Gift Consulting service, and Gift Concierge and Gift Shopping Companion services in the New York City area. The company is committed to helping busy people find more time for their family, social, and career commitments by assisting with their gift giving and gift shopping needs.
For more information about That Perfect Something and to learn more about the company's services, please visit http://www.thatperfectsomethingnyc.com.
###