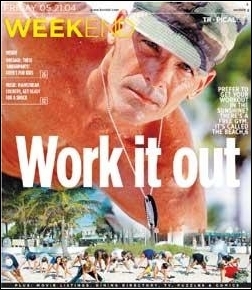 Develop a philosophy of movement. We live in a society that cultivates a philosophy of sedentary living.
Fort Lauderdale, FL (PRWEB) November 7, 2006
Lt. Colonel Bob Weinstein, age 55, a.k.a. the Health Colonel and know by his clients as Colonel Bob, was interviewed by the award winning talk show host and features editor and writer, Sandy Zimmerman for an article in the Las Vegas Tribune which appeared on October 25, 2006, in the Health and Fitness Section, titled, "What Can You Do to Improve Your Health?"
Weinstein is a retired U.S. Army Lt. Colonel with 30 years of combined active duty and reserve service. He is based out of Fort Lauderdale and is self-employed with his own business The Health Colonel. He is a speaker, writer and fitness beach boot camp instructor.
Colonel Weinstein shared some of his valuable insights into healthy living at any age. Some of his tips on how to lead a healthy life:
"Do you want to predict the future about your health? Take a look at how you are living your life today. Your lifestyle today will have an impact on your health 5, 10 and 15 years from now."
"Focus on what you can do and eliminate all excuses."
"You're walking around with the most portable and affordable exercise equipment in the world -- your body!"
"Do you want to put the recreation back into your exercise routine? Take your workout outdoors and treat your environment like a playground."
"Develop a philosophy of movement. We live in a society that cultivates a philosophy of sedentary living."
"Eat predominantly unrefined foods with lots of whole grains, beans, fruits and vegetables."
"You do not want to belong to the club, WWC or Wheelchairs, Walkers and Canes. Do something on a regular basis to make sure that you can keep using all your body parts as you age."
"Reduce those portion sizes and quantity of food and you'll reduce that pant or dress size.
"This is my calling." As he says, "There are enemy soldiers on American soil. The names of these soldiers are Heart Disease, Cancer and Stroke. They are killing over 3,000 Americans a day."
"Every physician who prescribes medication needs to offer their patients a realistic, strategic, long-term lifestyle plan to get them off of medication, where feasible."
About Sandy Zimmerman:
Sandy Zimmerman is Features Editor and writer for the "Health & Fitness" section, Features Editor and writer for "Travel" section, and columnist for "Best of Vegas", in the Las Vegas Tribune Newspaper. She is celebrating 28 years as an award winning talk show host for "Discover the Ultimate Vacation" travel specials and "Las Vegas Today Show" radio programs, health/ travel/ entertainment/ dining, and photographer. She is also contributing writer for the World Travelers Guide.
Contact info:
Sandy Zimmerman:
(702) 731-6491
P. O. Box 750211
Las Vegas, NV 89136
Website: http://www.discovertheultimatevacation.com
About the Health Colonel, Lt. Col. Bob Weinstein:
Lt. Col. Weinstein was born in Washington, D.C., grew up in Virginia and spent 20 years in Berlin, Germany; he is retired from the Army Reserve as a Lieutenant Colonel with 30 years of service and spent about half of that time as a military instructor with the Command & General Staff College.
He has been featured on radio and television, among others, on the History Channel and Fox Sports Net as well as in various publications such as the Washington Times, RAZOR magazine and the Miami Herald.
His background is unique and diverse: military instructor, attorney, motivational speaker, wellness coach, certified corporate trainer, and certified personal trainer. Bob is fluent in German and English.
He specializes in a military-style workout on Fort Lauderdale Beach that incorporates strength, cardio, flexibility and agility training, both personal training and group sessions.
Bob is known as the Health Colonel and is a motivational speaker and is a member of the National Speakers Association. A sample of some of his topics:
Eight ways to get and stay fit at any age.
How to organize and implement a corporate fitness boot camp program.
How to eat for performance and energy.
Five ways to enhance performance and energy.
Six Keys to Permanent Weight Loss
You can find out more about his programs at http://www.NoMoreCryBabies.com.
He is also presently writing a book on personal development, health and fitness.
End of December 2006, he will be releasing audio seminars and a DVD about "How to Get and Stay in Shape at Any Age."
His burning desire is to help others lead healthier and happier lives and reduce some of the preventable health-related suffering and deaths caused by an unhealthy lifestyle.
Some of Bob's clients as a speaker: Sony, DHL, American Express, KPMG, AOL Latin America, IBM, AARP and Humana.
###