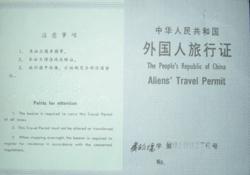 Feel relaxed for Tibet travel permits application if you choose a local reliable, experienced and professional Tibet travel agency for 2013.
(PRWEB) March 31, 2013
Lhasa based Tibet travel agency, Tibet Ctrip Travel Service-TCTS (http://www.tibetctrip.com), is proud to announce that Tibet travel permits will start being issued on April 1st 2013. This exciting change in travel policy will allow foreign travelers to enter Tibet without any limitations on group size or nationality. Now small groups of travelers will be able to book private Tibet tours or reserve a spot in a group tour. A rapidly evolving tourist infrastructure has helped Tibet become one of Asia's top travel destinations; its snow capped peaks, alpine lakes, and unique culture have helped provide unforgettable memories for millions of travelers.
Due to Tibet's unique political situation, independent travel in Tibet is not possible at this time. As of 2008 the Tibet tourism bureau has required foreigners travelling in Tibet to obtain a Tibet permit through a registered travel agency. In addition it may be necessary to obtain additional permits for travel to certain sensitive areas. Recently, there has been a consensus that the Tibet Tourism Bureau must allow increased foreign travel in Tibet in order to develop it into a global tourism destination.
Beginning April 1st, TCTS will be able to obtain permits for foreigners of all nationalities and of any group size. If entering Tibet through Mainland China, permits will need to be presented at airports and train stations. TCTS will mail the permit to traveler's hotel in advance of their departure. If entering by ground or air from Nepal, traveler's native Tibetan guide will bring the permit to the border with Nepal or the airport in Lhasa and assist them through the immigration procedure.
Now that the ban on Tibet entry permits has been lifted, travelers can visit many of Tibet's most famous cultural sites and witness some of the most magnificent scenery on earth. TCTS makes Tibet travel easy by carefully planning tours, obtaining necessary permits, and providing experienced native Tibetan guides and drivers. With no limitations on group size or nationality, travelers from all over the world can enjoy Tibet's fantastic scenery and fascinating culture!
Devin Moore provided this news release on behalf of local Tibet tour agency TCTS (tibetctrip.com). Devin is a travel writer and independent economic analyst based in Springfield, Missouri USA. His economic research is currently focused on airfare pricing. Devin Moore works to spread awareness of Tibet and its people through publishing Tibet travel information.