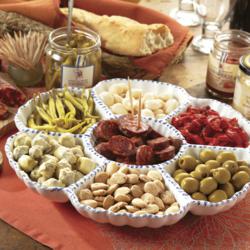 A 5-minute tapas party in a box!
Williamsburg, VA (PRWEB) October 09, 2012
With the holiday season on the horizon, the search for exciting new gift ideas for friends and family is already underway. For more than sixteen years, La Tienda.com has been the top source for artisanal foods from Spain and today announces the top ten new gift ideas for 2012.
Every year, the La Tienda team comes together to brainstorm, and many of the best new concepts come from La Tienda's customers. "We love hearing from our customers – they often post ideas on our Facebook page, Tweet, or pick up the phone and call," notes Laurie Hager, head of public relations for La Tienda, "and one of our favorite new gift ideas from a customer is a 5-minute tapas party in a box!"
This Tapas Essentials Collection features a gorgeous hand-painted ceramic tray to be filled with Spanish classics including gourmet Marcona almonds, artichokes, guindilla peppers, olives, sweet garlic cloves and Spanish chorizo. Seeking unique ways to bring Spanish flair to the holidays, La Tienda's 2012 gifts are all centered upon joyful entertaining.
"We find that our customers are fanatical about such things as anchovy-stuffed olives, Ibérico meats, and traditional Spanish cooking." says President Jonathan Harris, "We work with small artisanal producers based in Spain to bring these favorites to the U.S." From the Olive Lovers Gift Set, to the exotic Tagine Cooking Kit, to the Ibérico Cured Meats Sampler, La Tienda brings the spirit and flavor of Spain to every home.
This season's Top Ten List includes:
1. The Tapas Essentials Collection - easy tapas favorites.
2. Spanish Olive Lovers Collection - from fruit to tree, celbrating the olive.
3. Tagine Cooking Kit - includes the tagine, a cookbook and all the fixings.
4. Spanish Coffee Lovers Collection - from coffee to sweets, everything for the enthusiast.
5. Ibérico Cured Meats Sampler - a magnificent trio of Ibérico jamón, lomo and chorizo.
6. Traditional Paella Kit - pan, spices and ingredients, all in one.
7. Bocadillo Sandwich Kit - from the bread to the jamón, for the perfect Spanish sandwich.
8. Spanish Chocolate Lovers Collection - in honor of Spain's deep chocolate history.
9. Spanish Chef Starter Collection - olive oil, vinegar and classic Spanish spices.
10. Chorizo Sampler - four delicious sausages to slice and serve.
For more information about holiday gift ideas, please visit the La Tienda Gift Guide.