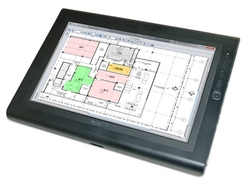 After comparing LATISTA with other competitors on the market, LATISTA had clear advantages in web-collaboration tools and key functionality that were necessary for a companywide implementation.
Reston, VA (PRWEB) September 24, 2010
Capital project owners reported in the Construction Users Roundtable (CURT) Owners Survey in 2008 and 2009 that quality and contractor compliance are the most important standards of practice they need from their projects. Being able to address and overcome these challenges—quality, efficiency, and compliance—on all projects is a significant benefit that contractors can offer to owners. General contractors have a vested interest in producing quality projects efficiently, as this is the basis for strong customer relations.
LATISTA Field software was designed around automating inspections, communications, and reporting on the jobsite, and it links the contractor to owners, architects, engineers, and subcontractors through a mobile field platform and collaborative web server. Two leading contractors, Clark Construction Group, LLC, and Brasfield & Gorrie LLC have realized the benefits of using LATISTA and have rolled out the LATISTA Field platform to dozens of projects each.
LATISTA Technologies, Inc., (http://www.latista.com) started in 2001 doing custom software development for construction companies. This work resulted in LATISTA Field, a mobile field management platform with drawing markups, inspection forms, workflows, photo management, and reporting. A key component of LATISTA's technology is its proprietary online-offline synchronization capability and web platform, which allows for field automation and collaborative connections with the entire project team. Today, LATISTA automates collaboration on dozens of quality-related processes that originate on the jobsite yet include multiple project stakeholders to get the job done right the first time.
LATISTA presents an extensive, combined case study of Clark and Brasfield & Gorrie, whose use of the LATISTA Field solution has progressed from pilot stages to a full, enterprise-wide implementation. This case study gives insight to how two leading contractors automated many of their construction processes to make their project teams more efficient and allows them to deliver higher quality facilities to their customers: The Clark Brasfield Rollout Case Study.
Clark and Brasfield & Gorrie are both on the forefront of jobsite automation technology. For them, LATISTA has improved quality, efficiency, and collaboration and has improved their relationships with their customers, the projects' eventual owners.
Clark began recommending to its projects that they plan on using LATISTA after initial successes on projects like Nationals Park baseball stadium in Washington, D.C. To finish in time for Opening Day 2008, the $611 million stadium project was carried out on a shortened schedule of 23 months instead of the normal 36 for similar facilities. LATISTA helped the design-build project team—including architects from HOK Sport—to identify, communicate, and resolve tens-of-thousands of quality and punchlist issues before turnover. LATISTA also provided owners with a complete record of construction and deficiency corrections to reference after the project's completion.
On Pacific Beacon, a U.S. Navy housing project built in conjunction with Clark Realty Group in San Diego, Ca., Clark used LATISTA for "rolling" quality inspections throughout construction and for production tracking on the building's windows and doors. As a military project, Pacific Beacon's exterior skin had to meet extensive blast-proofing standards, and LATISTA replaced a 250-page Excel spreadsheet to coordinate those inspections. As a result of LATISTA automation, Pacific Beacon was turned over 90 days early with zero outstanding issues.
In July 2009 Clark signed an enterprise agreement to use LATSITA on every new project. "We saw the applications for quality control right from the start," said Applications Development Manager Steve Stankiewicz. "LATISTA's flexibility was very important, since we could create custom forms and have them be exactly what a project needed."
Clark CIO Dave Golden commented: "We made the decision to roll out LATISTA Field company-wide because LATISTA has proven to us that their field automation solutions improve operational efficiencies and collaboration between project stakeholders."
Noting that there will be more than 1,600 licenses when LATISTA is in complete utilization, CIO Golden also said that, "After comparing LATISTA with other competitors on the market, LATISTA had clear advantages in web-collaboration tools and key functionality that were necessary for a companywide implementation." Currently Clark has more than 1,200 active users on 54 different projects. They have recorded more than 200,000 issues.
The quality results of LATISTA have also become a large part of Clark's communications with their customers. "LATISTA is definitely something we put into our proposals," said Stankiewicz. "A typical request for proposal that we submit now includes a section on the quality control process, and in that we include what LATISTA is and how we use it. We've seen a good perception from owners."
After working with LATISTA on 1010 Midtown, a mixed-use $159 million condominium in downtown Atlanta, Ga., Brasfield & Gorrie recommended the software for their future projects because it fulfilled all of their requirements and allowed them to customize features as needed. The company recognized LATISTA as an ideal choice for making their inspection process faster and more effective. "1010 Midtown was a very large project and it was so much easier for LATISTA to handle everything than for us to do it by hand," said Corporate IT Operations Manager Steve Gilbert.
Project Manager Jerry Whitfield, working on All Children's Hospital in St. Petersburg, Fl., also recognized the strength of LATISTA Field: "If it's going to be used for safety and QA/QC, LATISTA will make a huge difference in quality and turnover time." All Children's used the software to coordinate the punchlist and send deficiency reports to the 30 subcontractors on site 75% faster than with their old pen-and-paper methods.
"LATISTA has worked with us to dramatically improve the speed of our inspections and deficiency turnaround time on projects," said Brasfield & Gorrie CIO Tom Garrett. In fact, having the information in LATISTA immediately rather than having to retype or enter information by hand has reduced Brasfield & Gorrie's average issue identification-to-resolution time from days to mere hours.
"We had time for so many more issues than we would have had before," said Gilbert. "It's so easy to put them into LATISTA–it's effortless–and getting them out to subcontractors is so much quicker that you get a better return." The data also facilitate better subcontractor evaluations for future projects.
Clark and Brasfield & Gorrie know that, in today's world, a great customer reference is the key to future business. Each has worked with the LATISTA Field automation and collaboration solution to improve their projects' quality and efficiency. In the process, they improved their relations with owners as they have been able to turnover projects sooner with fewer defects, so that facility operations can begin without delay. LATISTA is proud to be a part of working with leading contractors to collaborate with project teams to deliver high quality facilities to owners more efficiently than ever before.
As customers like Clark and Brasfield & Gorrie continue to expand and explore the implementations of LATISTA Field, LATISTA will continue to grow to support those implementations, whether on single projects or enterprise-wide. The case study of Clark and Brasfield & Gorrie's experiences with LATISTA is available on the LATISTA website at http://www.latista.com/rollout-case-study.
About Clark Construction Group, LLC
More than a century old, Clark Construction Group, LLC (http://www.clarkconstruction.com), is one of the United States' most experienced construction service providers, with more than $4 billion in annual revenue and projects throughout the country. From small interior renovations to architectural landmarks, Clark supports its projects with teams of highly trained construction professionals and specialists to ensure that the entire construction process goes smoothly.
About Brasfield & Gorrie
Headquartered in Birmingham, Ala., since 1964, Brasfield & Gorrie General Contractors (http://www.brasfieldgorrie.com) ranks 29th in the nation's "Top 400 Contractors" according to Engineering News-Record, and is second in healthcare general contractors according to Modern Healthcare magazine based on 2008 volume. Today they have six regional offices and are licensed to build in 49 states.
About LATISTA Technologies
LATISTA's mission is to enable contractors and capital project owners to dramatically improve operational efficiency and deliver higher quality facilities on time by offering a comprehensive enterprise field management solution. LATISTA Technologies (http://www.latista.com) has been a leader in quality and field management solutions and services since its founding in Reston, Va., in 2001. Its software is used by top 200 contractors and top 50 owners worldwide to improve operational efficiency and enhance collaboration among project participants.
###