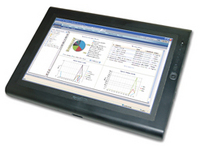 Our software is already proven to reduce a construction project's time and cost
Reston, VA (PRWEB) October 7, 2009
LATISTA Technologies, a leader in construction automation and field management solutions, announced that LATISTA Field automation software has integrated Autodesk Navisworks project design and synchronized BIM modeling capabilities. Autodesk, Inc., is a provider of computer aided drawing (CAD) and building information modeling (BIM) software.
Combining LATISTA Field's mobile and web-based solution with comprehensive Navisworks models enables owners, architects, engineers, and construction professionals to update, access, and share information on a single construction model on and off the jobsite. LATISTA Field is leading the way in linking BIM technologies to the LATISTA Enterprise quality and field operations management solution.
To improve efficiency and accuracy, LATISTA integrates information from the Navisworks model and augments in LATISTA Field it with statuses, issues, and actions for automating field operations including quality assurance and control (QA/QC), materials tracking, production tracking, punch list and commissioning.
With a mobile tablet PC in the field, a LATISTA user can key in or scan the item's tag code from RFID or barcode and status the item. Back at the office, the Naviswork model is automatically updated with the latest statuses from the field, generating an instant up-to-date view of the project's progress. Project teams and owners benefit from having a visual representation of the latest information from the field, since shared information leads to less confusion and fewer delays.
"Our software is already proven to reduce a construction project's time and cost," said Chris Ramsey, Executive Vice President of LATISTA, "Adding Autodesk's BIM information into LATISTA and enabling project teams and owners to view LATISTA information in Navisworks only compounds the return on investment for our customers."
About LATISTA Technologies
LATISTA's mission is to enable contractors and capital project owners to dramatically improve operational efficiency and deliver higher quality facilities on time by offering a comprehensive enterprise field management solution. LATISTA Technologies (http://www.latista.com) has been a leader in quality and field management solutions and services since its founding in Reston, Va., in 2001. Its software is used by top 200 contractors and top 50 owners worldwide to improve operational efficiency and enhance collaboration among project participants.
About Autodesk, Inc.
Autodesk helped lead the construction industry into the computer age in 1982 with AutoCAD software and is known more recently for advancing building information modeling (BIM) technology. Now, nine million professionals in 185 countries are using Autodesk products to save time and money, gain competitive advantage, and change the way ideas are brought to life.
Autodesk, Navisworks, and AutoCAD are registered trademarks or trademarks of Autodesk, Inc., in the USA and/or other countries. All other brand names, product names or trademarks belong to their respective holders.
###