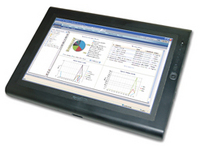 The LATISTA Field OSHPD workflow manages field processes and creates web-based documentation, so that contractors and owners meet stringent requirements head-on and can turn over hospital projects sooner with higher quality.
Fairfax, VA (PRWEB) January 8, 2010
LATISTA Technologies has released a specific workflow and configuration for its LATISTA Field software that enables hospital contractors and owners to meet the requirements of the state of California's Office of Statewide Health Planning and Development (OSHPD). This solution helps hospital contractors and owners automate their jobsite processes and create OSHPD-compliant documentation, augmenting LATISTA's already strong hospital-construction functionalities.
The California Office of Statewide Planning and Development enforces strict regulations governing the design, construction, and maintenance of buildings in the state to ensure their safe use and structural soundness. OSHPD requires hundreds of hours on the jobsite conducting thousands of inspections to manage lists of specifications, track pages of drawings, communicate reports, create a chronological record of construction, and file results with the state. LATISTA Field's OSHPD process saves time for field personnel and ultimately reduces project cost and helps the hospital proceed through occupation, licensing, and evaluation sooner.
LATISTA has signed several contracts for use on California hospital projects and will provide construction teams with a collaborative system for tracking quality that includes the state's certified inspectors and documentation. In addition to LATISTA's OSHPD compliance workflow, contractors and owners use the software for quality management, Building Information Model (BIM) integration, risk management, and communications between various parties.
Previous hospital projects outside of California have already successfully implemented LATISTA. Barton Malow Construction recently completed the Western Maryland Health Systems (WMHS) Health Center in Cumberland, Md. The $277 million, 585,000 sq. ft. project equipped nine LATISTA Field users with three portable tablet PCs and several laptops in the field to conduct quality and punchlist inspections and to track materials. "It's a lot easier to keep electronic records in LATISTA, rather than shuffling papers," said Barton Malow Project Manager Mickey Meredith. "Our inspectors probably saved 20 hours a week on retyping alone."
Clark Construction Group, LLC, and its joint venture partners are also using LATISTA on Johns Hopkins Hospital in Baltimore, Md., and on Walter Reed Army Medical Hospital in Bethesda, Md. Clark's successful experiences with the software led them to sign an agreement to use LATISTA companywide in 2009. The company's rollout plan incorporates employees, capital project owners, architects, and subcontractors for inspections, quality assurance, safety, materials and production tracking, and commissioning.
LATISTA Field enhances productivity through automation of the work on the jobsite and ties stakeholders together around standardized processes and communications. The LATISTA-implemented OSHPD workflow incorporates third-party inspectors such as architects, engineers, and inspectors of record (IOR). Including all parties in one system eliminates problems with coordinating communications and rekeying large volumes of inspection information. This is ideal for hospitals where high quality and compliance are essential.
For OSHPD projects, LATISTA users can manage inspections so the contractor can track issues and statuses in real time. Quality checklists and reporting provide an easy automated template to quickly see if each party is performing up to standards. All team members work on the same quality plan and initiate inspections for the IOR to come in and use the same templates to approve the OSHPD compliance. This removes paper from the process and helps manage multiple parties as they are working. If there are construction deficiencies that impact quality, all relevant parties are can see it in real time.
"California's OSHPD requirements are stringent but necessary to protect public health and wellbeing," says LATISTA Vice President Chris Ramsey. "The LATISTA Field OSHPD workflow manages field processes and creates web-based documentation, so that contractors and owners meet stringent requirements head-on and can turn over hospital projects sooner with higher quality."
For more information on the LATISTA healthcare solution and OSHPD workflow processes, visit latista.com/industries/healthcare.
About LATISTA Technologies
LATISTA's mission is to enable contractors and capital project owners to dramatically improve operational efficiency and deliver higher quality facilities on time by offering a comprehensive enterprise field management solution. LATISTA Technologies (latista.com) has been a leader in quality and field management solutions and services since its founding in Reston, Va., in 2001. Its software is used by top 200 contractors and top 50 owners worldwide to improve operational efficiency and enhance collaboration among project participants.
###