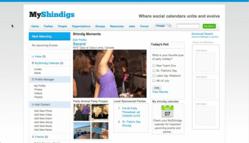 MyShindigs.com has been making all the right moves and taken center stage in leading the next generation of social media...
Boston, MA (PRWEB) November 13, 2012
This week MyShindigs.com announced the launch of its highly anticipated and eagerly awaited event invite application. This free and new feature was seen as a necessary step in the development and evolution of the up and coming social networking site. The new feature allows MyShindigs members to check off the 'add my events to Facebook' option and have all events be posted directly to that person's Facebook wall as the events are created in the MyShindigs platform. This allows all events to be centralized and managed within MyShindigs thus taking advantage of the many more events creation and management features.
'With our online membership growing so rapidly we felt that now was the appropriate time to begin to integrate our website with sites such as Facebook and help evolve people's social calendars like never before. We are very excited to share the new MyShindigs Facebook App with our users.' say co-founders Jason Andrews and Matthew Tautt. 'It's easy to use and can be found under the Profile Manager heading in the Event Settings section. The user simply adds the app during the creation stage of the event when prompted and all public parties and events will be shared on their Facebook wall for all their Facebook contacts to see.' Add Jason and Matthew.
As the social media and networking landscape continues to evolve it is important for increased integration and co-operation between social networking websites so as to lessen unnecessary overlap. Integration of social media sites allows users to take advantage, utilize, and combine the strengths of all. It is through its event creation, management, and broadcast promotion that MyShindigs members have the ability to reach an unlimited number of contacts for advertising purposes. This is a core service of the website.
A major part of on-site activity revolves around members being able to create events and parties, adding and following friends, preferred event hosts, as well as venues for public and exclusive event invitations. The introduction of this new feature allows members to reach a wider group and audience.
'The new integration of MyShindigs with sites such as Facebook will expand the social calendars of individual users, assist various organizations in growing their business, and help stimulate new ideas and entrepreneurship.' Say Jason and Matthew. 'For instance, if a user is following a local friend or promoter that happens to throw many events or parties and if you are subscribed to their event feed then each time they create an event you receive an alert in real time.' add Jason and Matthew. Invitations when accepted are added to a member's Shindig Calendar and archived once they happen. This allows for easier management, addition of photos, videos, and comments.
It is becoming increasingly clear that MyShindigs.com is taking on a leadership role to guide users into the next generation of social networking. Just a few months removed from its launch the private site is already beginning to show revenue through sponsorship thereby allowing new features to be introduced free of charge to its members. In an election year where the struggling economy was still the primary focus of voters, MyShindigs continues to do its part in aiding young entrepreneurs and event planners via its free event advertising and promotional tool. These latest site additions along with the introduction of the Shindig TV video tool a few months back has the MyShindigs brand rising in popularity, notoriety, and membership across North America and around the world. Myshindigs.com is making all the right moves to take center stage in the next generation of social media.
About MyShindigs
MyShindigs is a social networking platform that specializes in allowing members to plan, organize, manage, promote and broadcast their public, private and company events and parties. MyShindigs allows users to search out, share, follow and join each other's events and parties of interest to expand their social calendar throughout their lives. For more information, visit http://www.myshindigs.com.