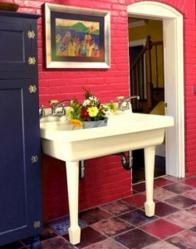 The real revolutions in laundry and utility sinks are throwing out the old, typical, plastic Wash Basins that ultimately are just big tubs with feet and replacing them with much more useful and attractive vanities.
(PRWEB) November 14, 2012
HomeThangs.com – the Home Improvement Super Store has made their goal to deliver the right product to the consumer, with that in mind, shopping and home design tips, as well as special product selections are being introduced.
In older homes a laundry sink is usually nothing but a big, ugly plastic-tub-on-legs that is probably lurking somewhere next to the washer and dryer, probably in the creepiest part of the laundry room. Since laundry room remodels are on the rise many are looking to turn their dank, damp, cobwebby basement laundry corner into a slightly more hospitable place to do the laundry. HomeThangs.com offers some attractive designs of laundry tubs and utility sinks and a few tips to complete that updated laundry room look without sacrificing functionality.
1. The historical precedent for a laundry sink is actually the wash basin, and while there's hardly anyone out there who is going to turn the clock back and start hand scrubbing all their skivvies in a Freestanding Sink, the same usefulness is still there. With a few pieces of stained or heavily soiled clothes, pre-soaking them in a laundry tub is sometimes much more efficient than filling the washing machine to soak a whole load before you starting the wash. As well, it's a great place to wash the delicates – one can soak and hand scrub fragile clothing while the regular load is running.
2. It's just nice to have a sink near the washing machine. When getting hands soapy when running a load of wash, and linty when cleaning out the dryer trap, it's nice to be able to rinse off the gunk and pre-wash spray after chucking clothes in the washer. Adding a few accessories, like a Wire Drying Rack or a removable work surface makes it even more useful, giving a little more work space to scrub stains and air dry soggy rags or socks that came out of the dryer just a little damp.
3. But the real revolutions in laundry and utility sinks are throwing out the old, typical, plastic Wash Basins that ultimately are just big tubs with feet and replacing them with much more useful and attractive vanities. To make a utility sink earn it's keep in a day where washing machines have long since overtaken wash boards, they have to be able to do something more than just hold water. Especially if looking to move the laundry setup into a more hospitable place, at the very least the accompanying sink should have a minimum of one storage shelf underneath, like the Kohler Bayview Sink for example, and not be a complete eyesore.
4. Even better is something like the Harborview Sink by Kohler, that can be mounted in a genuine vanity with multiple doors and drawers. This is especially important for a more well-trafficked and visible laundry area, and makes for a more pleasant laundry room vibe overall, as it affords quite a bit of hidden storage. Instead of having a pile of detergent bottles, dryer sheets, and fabric softener balls scattered all over the place, a laundry sink with a closed vanity affords all the storage space needed to nix the clutter and keep the laundry area looking like it ought to – neat and clean as a folded towel.
5. If not planning on washing a lot of delicates in a laundry sink, but there's still a need in an access to a faucet, one might want to consider a smaller utility sink, like the Tandem Sink by Kohler. It's pretty bare bones, and much more compact than most utility wash basins, but that means one can either install it in a very small vanity which takes up almost no space, or as part of a larger countertop, which not only offers tons of storage space underneath, but also leaves plenty of extra flat surface space for folding clothes once they make it out of the dryer. This sink also happens to be just the right size to rinse, and, with a strainer, air dry the stockings.
6. For those more concerned about floor space than storage space a wall mounted laundry basin, like Barclay Cleaner Sink, affords almost no storage, but also takes up hardly any space – it has a smaller footprint and more interior space than the Tandem sink. Because it doesn't need to be mounted in a vanity, the actual space the sink takes up is all that has to be taken into consideration – the floor will be completely clear.
7. A two-legged console laundry sink, like the alternate installation of Kohler's Harborview Sink is a good alternative for those who do need a bigger sink, but want one that looks a little nicer than a standard back-of-the-basement setup. If some extra storage is needed, one can wrap a sink skirt around the rim of the sink and store the stuff underneath – which gives all the space one would get in a vanity at a significantly lower cost.
Ultimately, a laundry sink is really just something that makes life that little bit easier. Whether one needs a place to soak the sweaters or a nice steady flow of water to help scrub that gob of baby spit off the favorite shirt before tossing it in the wash, having a sink close at hand while doing laundry can help streamline the whole process.
HomeThangs.com is not only a home improvement superstore, it also provides expert home design tips and a comprehensive shopping guide, taking the ideas from professional interior designers, and offering tips to the consumers on how to pick the products to best suit their needs.